Hytrol Introduces New DCEZD-62, DCEZD-63, and a New End Drive for DC-62 Drag Chain Conveyors
Pallet conveying innovations from Hytrol
Our partners at Hytrol Conveyors have introduced a couple of new upgrades to drag chain conveyors.
First, they are rolling out two new models, the DCEZ the DCEZD-62 and DCEZD-63 heavy duty drag chain pallet conveyors. These are 2-and-3-strand drag chain conveyors ideal for medium duty zero-pressure accumulation. They utilize Hytrol's EZLogic® Accumulation System and EZDrive decentralized drive system for non-reversing applications. They're also manufacturing a new end drive for the DC-62 and DC-63, the two-and three-strand drag chain conveyors designed to handle pallets.
DCEZD-62 and DCEZD-63
Horizontal drag chain conveyors tend to be used for pallet loads.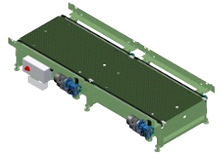 3,000 pounds capacity per zone
Eliminates product skewing by maintaining contact with chain at all times
Eliminates need for compressed air
Uses EZLogic® accumulation system features: allows cascade slug release for higher product throughput using lower speeds, and uses sleep mode for higher energy efficiency and reduced wear
Catenary take-up (no manual adjustment required)
Replaces DCEZ-60 and DCEZ-63
End Drive for DC-62 and DC-63
5,500 pound capacity
Catenary take-up (no manual adjustment required)
Contact us for information regarding these new conveyor innovations.
---
Scott Stone is Cisco-Eagle's Marketing Director with three decades of experience in material handling, warehousing and industrial operations. He writes on automation, warehousing, safety, manufacturing and other areas of concern for industrial operations.
What can we help you with?