Download: Warehouse Safety
A focus on forklift/pedestrian safety, ergonomics, and fall prevention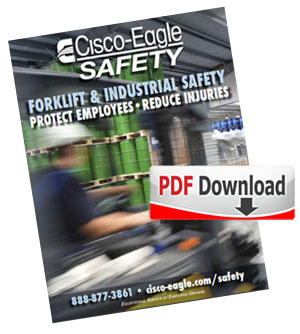 (PDF, 1MB, Opens new window)
We've added a safety products catalog in convenient PDF download. This catalog covers a range of pedestrian and traffic management options available to facility managers and operators who want to improve safety for pedestrians who work near and around forklift traffic, including warehouse safety sensors, AisleCop® automated safety gate systems, safety gates for mezzanines and docks, an array of protective guard rails, and more. We also touch on safety guards for racks that help reduce the chances of product spills following forklift collisions, loading errors and other mishaps.

Tags: catalog, ergonomics, forklift safety, infrared sensor, motion detection
---
Scott Stone Cisco-Eagle's Director of Marketing. He has over 25 years of experience in the industry.
What can we help you with?