OSHA's Top 10 List for FY2015
The most cited safety violations of the past year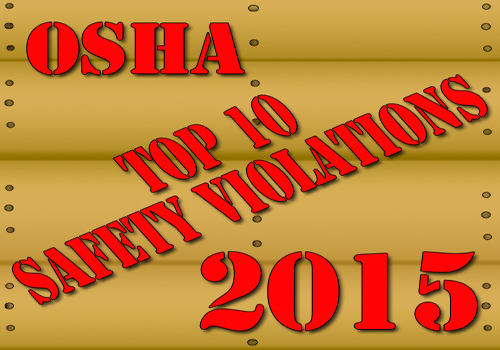 The annual National Safety Council Congress & Expo has come and gone and one of the best take-aways from that event was the announcement of OSHA's top ten most-cited safety violations for FY2015. None of the items on the list were especially surprising, except perhaps the numbers of citations, and all types of violations should give you cause to stop and think about how well you've done with safety in those areas.
The Countdown
Let's analyze each of the 10 listed violations by number of citations and the section of OSHA 29 CFR that covers requirements and standards for each. We'll offer some ideas for ways to improve safety in these areas.
10. General Electrical Requirements: 1,973 citations
This covers examination, installation, and the correct use of equipment, as well as assuring equipment is safe for use. Safety training is an important element for compliance with this standard.
Learn more at: 1910.303
9. Machine Guarding: 2,295 citations

Machine guarding is one of the best ways to prevent injuries around equipment with moving parts that workers may come in contact with. This includes the point of operation risk of exposure to injury as well as general worker injury risks.
Learn more at: 1910.212
8. Electrical Wiring Methods: 2,404 citations
Compliance standards include metal raceways, cable trays, cable armor and sheath, enclosures, frames and more. Also covers electrical noise reduction, wiring standards and limitations.
Learn more at: 1910.305
7. Ladders in Construction: 2,489 citations
People tend to disregard ladder use hazards and that is exactly what gets them in trouble. To keep your workers safer, insist on safety training and then enforce the rules. OSHA standards address load capacity, step surfaces, clearances, ladder cages, and even step stools.
Learn more at: 1926.1053
6. Powered Industrial Trucks: 2,760 citations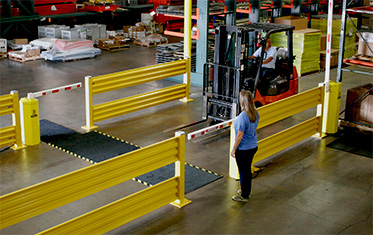 Equipment included are fork trucks, tractors, platform lift trucks, motorized hand trucks and more. Standards are listed for design and construction as well as testing lab approvals. An important issue here beyond making sure equipment is in proper working order is training users in safe practices and making sure locations where pedestrians and industrial trucks share space is adequately protected against collisions.
We extensively cover ways to help make people safer when forklifts operate near and around pedestrians. See this series of blog articles for extensive information.
Learn more at: 1910.178
5. Lockout/Tagout: 3,002 citations
OSHA's title for this section of 29 CFR is strong reason for paying attention to lockout/tagout methods: "The control of hazardous energy". Death and serious injuries by electrocution is sudden, violent, and needless. Make sure your facility and contractors have the right lockout/tagout equipment to keep maintenance and repair jobs safe for everyone.
Learn more at: 1910.147
4. Respiratory Protection: 3,305 citations
Part of PPE (personal protection equipment), respiratory protection should always be considered when dealing with confined spaces, hazardous materials, or contaminated air laden with debris or fine particulates.
Standards for when respirators are needed and the types of respirators required at given at: 1910.134
3. Scaffolding in Construction: 4,295 citations
Load ratings, capacities, construction and safe operation are all part of keeping workers safe at heights. Safety training is another important aspect. Learn more at:  1926.451
2. Hazard Communications: 5,192 citations
How are you doing with proper labeling of hazardous materials? Have you implemented the Globally Harmonized System of Classification and Labeling of Chemicals yet? If there's room for improvement, take a look at: 1910.1200
Finally, the most cited violation of all – Fall Protection in Construction with 6,721 citations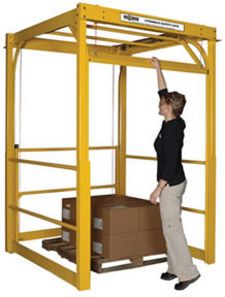 Coming in at top violation type with more than 1,500 citations over the next closest violation type, fall protection is not just a construction concern. Falls in material handling happen all too often although there are ample ways to help prevent falls. Guard rail, handrail, mezzanine gates, caged ladders, hatch and skylight protectors, and the list goes on.
See "Elevated Platforms and Fall Protection" for more information.
Get the full standard at: 1926.501
Implementing safe practices is the real take-away
What all these citations come down to is the failure to implement sufficient safety equipment and/or training at a job site. These citations also offer clear warning of what is catching OSHA's eye when inspecting a site. If others are lacking in safety precautions, you may need to sharpen your safety program, too. Take a little time to read the regulations and evaluate how well you meet the standards.
To get you started on improving fall safety at your facility, here's some art from OSHA you can use in your in-house publications: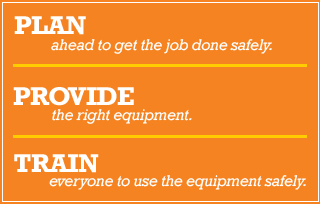 Tags: OSHA 29 CFR, OSHA Violations, Safety Precautions
---
Scott Stone is Cisco-Eagle's Vice President of Marketing with more than thirty years of experience in material handling, warehousing and industrial operations. His work is published in multiple industry journals an websites on a variety of warehousing topics. He writes about automation, warehousing, safety, manufacturing and other areas of concern for industrial operations and those who operate them.
What can we help you with?