Cisco-Eagle's 2015 Employee Ownership Poster
Designed by Amanda Miller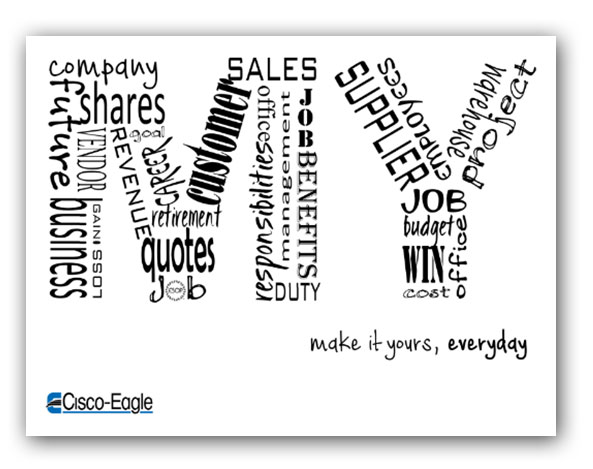 Cisco-Eagle runs an annual contest to design an employee ownership poster. Amanda Miller, systems design engineer with Cisco Eagle's Systems & Design group in Tulsa, Oklahoma, created this year's winning image. Amanda says her submission was inspired by Mike Rowe's Facebook post Take Ownership of Even the Dirty Jobs from July 10, 2015.
Amanda wanted her illustration to portray "that, just like the things we personally own, we should treat everything involving our company/job/work like it is ours  – because it is!." Being an employee owner to Amanda means she realizes more so that she is "an important piece of the whole. Having a 'stake in the outcome' makes even the smallest of job tasks seem that much more meaningful."
Observing teamwork between employees and teams, inspires Amanda.
Joel Pason, Cisco-Eagle's Oklahoma Manager of Systems & Design observed that "the poster is a great reminder of what it means to be an employee owner. Simply reading the words, preceded by MY, is the perfect way to re-center one's perspective as an employee owner."  Pason remarked that Amanda's "personal accountability, and focus on our company, makes her a great employee owner."
Miller's poster will be submitted to represent Cisco-Eagle in the ESOP Associations' annual contest.
---
Scott Stone is Cisco-Eagle's Vice President of Marketing with more than thirty years of experience in material handling, warehousing and industrial operations. His work is published in multiple industry journals an websites on a variety of warehousing topics. He writes about automation, warehousing, safety, manufacturing and other areas of concern for industrial operations and those who operate them.
What can we help you with?