Improving Customer Experience Through Manufacturing
6 Experts Weigh In on Changing Customer Expectations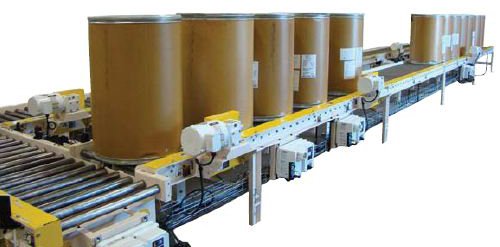 Today's consumers know what they want — and they want it fast.
The global online marketplace has placed infinite possibilities at customers' fingertips and competition is stiff. This is no longer a consumer trend; B2B companies have to change how they approach customer experience. Buyers are not only looking for a superior product, they also want great customer service and an efficient sales process.
Hue Schlegel of Wildeck put the current trend in the most succinct way possible: "The customer is king, so you have to give them what they want."
Meeting – and exceeding – those demands is a constant challenge that companies are approaching from many angles. At Modex 2016, we had the opportunity to speak with industry leaders about their efforts to improve customer experience. Let's take a look:
Mike Twitty, Western Territory Sales Manager, RWM Casters
"It really comes down to your presence, your market exposure and your presence – your branding. As a manufacturer, the challenge that we face is working with our distributor partners. How do we build that brand awareness within customers? And we found that there is sometimes a gap between the manufacturer, distributor, and the customer.
Our goal is to make it easy on our distributors to the point where a customer is saying, "Hey, I really want this product from this vendor." And to do that, you've got to get that direct marketing exposure to them. It's a challenge to close that gap and for us to directly connect with the customer.
One of the things we've done is create an entirely new customer service department. So we're working on hiring and training because it really is all about the customer experience. You can do almost everything right and one little thing wrong, and the customer experience is ruined. It doesn't take much."
Rob Honeycutt, Co-Founder and CEO, SixAxis LLC
"One of the biggest trends, I think, that's facing manufacturers today is keeping up with the same model the consumer market is taking, which is responding to customers faster. We call it mass customization.
All these manufacturers here at Modex make products that are sold in a consultative nature by companies like Cisco-Eagle, and the Cisco-Eagle rep goes into a warehouse or any kind of distribution center, almost like a doctor, and they look at all the symptoms, and they understand what's going on, and then they prescribe the right solution.
The value add of Cisco-Eagle, in my opinion at least, is all the expertise, the level of experience they have, and the way that they can integrate all of these different manufacturers solutions together, ultimately to be a single point solution for a customer.
It used to take months to do, and today – in best practices – it might take two to three weeks to do, and then with the solutions that we provide, we shrink that down to minutes.
The companies that will be in this hall 10 years from now will be the ones that figured out how to evolve with customer demands. Traditionally, manufacturers have focused on increasing efficiency within the confines of their company. In other words, they looked at workflows and adopted lean initiatives, and did all the things they should be doing to be more efficient, but they're not applying those same principles to the sales process. That's what companies need to be doing if they want to be successful."
Hue Schlegel, Marketing Manager, Wildeck
"The customer is king, so you have to give them what they want. If you're just selling a standard product, they're going to just keep looking at standard products until they find one that actually meets what they want.
What we want to do is have customers know Wildeck and want to work with us. We want them to come to us to discuss what they need and, in turn, we need to be able to provide it, whether it's a mezzanine, a rolling ladder, vertical lift, or a guardrail. That's what we're doing. We can build those in any size – big and small. For us, it's all about providing choice to the customer and meeting their needs. We want to be our customer's one-stop shop."
Liz Richards, Executive Vice President, MHEDA
"The biggest thing we're seeing is the customer wants a total solution – and now. They don't want to deal with a lot of different vendors. Over the past couple of years we've seen many of the forklift distributors who are primarily involved in forklift sales and service are now partnering with or hiring integrators because they want to be able to do all things for the customer."
Chuck Cobb, National Sales Manager, Pflow
"Our focus is always to stay in front of the customer – let them know what our capabilities are, let them know that we're there. Most of our sales are through distributor networks so it's a challenge to appeal to the end user but we always want to be the best. Our goal is to service customers the best we possibly can from the sale through to the services. One of the ways we do that is to support our distributors in the best way so that they can carry that through to the end user."
Boyce Bonham, Director of Integrator Services, Hytrol
"We are really focused on the customer experience. One of the customer groups we think a lot about are the maintenance staff because they're the ones living with the product in their facility.
One of the things we've done is build a toolbox smartphone app that is essentially a reference library about the product. Every conveyor has a serial number and now that serial number plate has a QR code. Customers can scan the QR code and it'll pull up this bill of material of all the components on there.
For example, a maintenance guy is walking in a facility, and he notices a belt that's been damaged. He can scan that QR code and it pulls up all the information on the belt. From there he can email an order for that component right in app. It really helps him in making his time more efficient and not having to make so many calls to figure out what part he needs. Every time we talk to a customer about it – the maintenance people – their face lights up."
---
Scott Stone is Cisco-Eagle's Vice President of Marketing with more than thirty years of experience in material handling, warehousing and industrial operations. His work is published in multiple industry journals an websites on a variety of warehousing topics. He writes about automation, warehousing, safety, manufacturing and other areas of concern for industrial operations and those who operate them.
What can we help you with?