Tinker Air Force Base Event: Pedestrian Safety Near Forklifts and Other Heavy Equipment
We'll see you November 15 and 16 with solutions and expert consultations to help reduce the chances of a crippling accident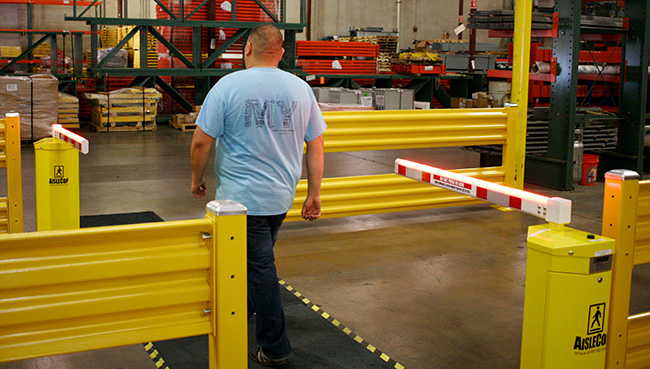 Cisco-Eagle's history in Oklahoma City and at Tinker Air Force base has been decades in the making. We have helped a variety of companies increase productivity, reduce inefficiency and advance their goals over the years. When people and forklifts or other heavy vehicles work in the same space, the potential for accidents is great —and the consequences devastating. In warehouses, plant floors, in hangars, or even traffic lots, we offer solutions to help reduce the chances of these accidents.
Visit us November 15th and 16th, from 8:00 to 3:00, building 3001 in the Oklahoma Room.
What you'll see:
AisleCop® automated forklift/pedestrian safety gates. These systems are implemented at hundreds of facilities nationwide in areas where traffic management that separates industrial vehicles from pedestrian traffic at critical high-traffic points, blind corners, or egress points with limited or no visibility is needed to help reduce accidents.
ZoneSafe transponder/tag-based proximity warning and alert systems that helps prevent industrial vehicle collisions by using active RFID technology to detect people and objects within a defined zone. In many areas, where aircraft, tow vehicles, forklifts, or other power vehicles operate near maintenance personnel, these systems are used to reduce the chances of collisions.
AisleAlert motion detection warning systems are ideal for situations where you must warn pedestrians and drivers of each others' presence at corners, ends of aisles, and other places where they cannot see one another as they enter a potential collision area. Motion sensors scan for converging traffic and trigger a  flashing light when it's detected – it's amazingly visible.
Forklift warning lights, which attach to any vehicle and precede it as it moves, helping to warn pedestrians of traffic down an aisle, emerging from a trailer, or other places.
Much more!
Our facility safety experts will be on hand to help you map out solutions and answer your questions. Call Roger Johnson, 405-2o5-0557 for any questions. See you there!

Tags: AisleCop, Safety & Ergonomics, Tinker AFB
---
Scott Stone is Cisco-Eagle's Vice President of Marketing with more than thirty years of experience in material handling, warehousing and industrial operations. His work is published in multiple industry journals an websites on a variety of warehousing topics. He writes about automation, warehousing, safety, manufacturing and other areas of concern for industrial operations and those who operate them.
What can we help you with?