At Cisco-Eagle, Employee Ownership is Far More Than Just a Retirement Plan
Watch Randy Williams, our CFO, take a pie in the face
At Cisco-Eagle, we are active and passionate about employee ownership. So many of us have spent our lives building this company and our shares in it that we like to analyze and discuss ways to make our company better and improve our ability to serve customers.
And of course, we like to have a little fun. In November, our ESOP Advisory Committee held a contest that let our employee-owners submit small essays on why our ESOP is more than just a retirement program to them. The winner got to throw a pie in the face of Randy Williams, our CFO.
The winning essay – by Jeremy Beckett
"When I first started here 10 years ago, Scott Stone told me about this whole ESOP thing during my interview and it honestly went in one ear and out the other.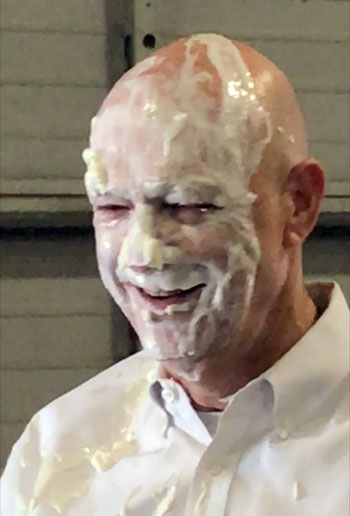 I was naïve about two things: (1), I was too young to think about retirement, and (2) and two, ESOP is simply a retirement account. I could certainly sing the praises of how much our ESOP accounts have grown in the last couple years, or Randy's favorite—speculate how much will be there when I retire. While that may be a good story to tell 30 years from now, when I actually try to cash that sucker in, like most other long term investments, that account balance really only matters the day you start withdrawing.
For me, being a part of an ESOP company is empowering. I not only have "skin in the game" by sharing in the profits, but a responsibility to each employee-owner to do the best job I can every day. Coupled with Open Book Management, I get to see the inner workings of the business and learn how I can influence the successes of both the company and all of you. The ESOP is also the catalyst that drives our company culture and makes this such a great environment in which to work. We congratulate, encourage, and hold each other accountable for the job we do. This is the only job where I felt I really knew what was going on in the company and where I thought of everyone as more than just coworkers.
I have served around 4 years total now on the EAC (ESOP Advisory Committee), almost half of the entire time I've been employed at Cisco-Eagle. During that time I have had the opportunity and privilege to talk with other ESOP companies about how something so focused on retirement, accounting, taxes, and stock has had such a positive effect on the morale and focus of their employees, and it's amazing. Hearing those stories, and seeing the influence the ESOP has around each of our own offices, is what keeps me reenlisting for another 18-month tour of duty on the EAC.
While I certainly want to see a nice big fat check when I reach that retirement destination, it is great that the ESOP has made the ride getting there a pleasant one."
Jeremy Beckett is Cisco-Eagle's E-commerce Supervisor, chairman of our ESOP Advisory Committee, and an employee-owner since 2006.


Tags: Employee ownership, ESOP, Fun, Pie
---
Scott Stone is Cisco-Eagle's Vice President of Marketing with more than thirty years of experience in material handling, warehousing and industrial operations. His work is published in multiple industry journals an websites on a variety of warehousing topics. He writes about automation, warehousing, safety, manufacturing and other areas of concern for industrial operations and those who operate them.
What can we help you with?