Tina Brooks is Cisco-Eagle's 2016-2017 Employee-Owner of the Year
This annual award is selected by a committee of employee-owners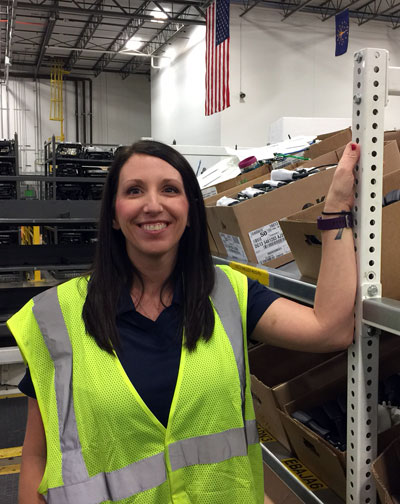 Above: Tina Brooks at a customer site visit
Tina Brooks from Cisco-Eagle's Oklahoma City office is the company's ESOP Employee-Owner of the Year, an annual award presented by Cisco-Eagle's ESOP (employee ownership) Advisory Committee. The employee-owner of the year award is awarded by a committee of peers based on a nomination process that includes all employees.
The award recognizes an employee-owner who has gone beyond what is expected to promote and support ownership culture. Cisco-Eagle believes that empowered, fully-invested employee-owners help us provide exceptional customer service and better business results.
"Superb" customer service and a can-do attitude
Brooks works in Customer Sales and Service, where her job includes order entry, assisting sales associates, and working directly with customers to help them select equipment and complete orders. She creates project budgets and manages those for multiple salespeople and projects.
"She makes life better for our customers, and for everyone in the company," said Account Executive Lisa Spry. "Cisco-Eagle is a better place with Tina here and I can't imagine our company without her."
"When it comes to customer service," said Darein Gandall, Cisco-Eagle President, "Tina is superb. People love working with her because she's so attentive to details and focused on their needs. She cares deeply that her fellow employees and customers get the best from her. She's always willing to jump in and help people get work done, no matter who asks her."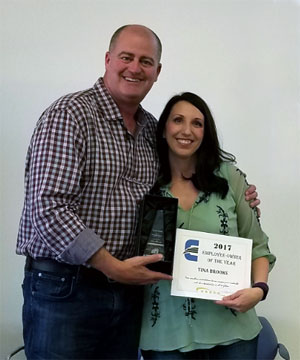 A dedicated champion of Cisco-Eagle's ownership culture
Brooks is an enthusiastic participant in Cisco-Eagle's culture, which defines itself by employee ownership, dedication to customers, and service to fellow employee-owners. She has been a member of our ESOP Advisory Committee, customer satisfaction team, and participates in Cisco-Eagle's financial huddles, all while ensuring that customers are taken care of promptly and efficiently. She has become a leader of Cisco-Eagle's Oklahoma City office as well as several committees.
She consistently provides outstanding customer service while maximizing company resources. She fills gaps when needed, helping people across the company execute orders, projects, events. She's described by her colleagues as relentlessly organized and always thinking of ways to improve.
"The thing about Tina," Spry said, "is that as busy as she is, she's always thinking of ways to improve the business. She's always thinking of ways to make things better."
Brooks also participates in organizations outside the company and works to make her community better. She is a key figure in the Oklahoma City Facility Managers (IFMA) professional networking group, where she manages the group's largest fundraiser, an annual golf tournament. Brooks and her family participate in the Oklahoma Department of Human Services Foster Care program, providing a secure home environment for children in OKDHS custody.
"If you are fortunate enough to work with her, you already appreciate her," said Susan Poole, a safety products account manager for Cisco-Eagle. "She takes on the things no one else wants to, and does it happily."
For information on Cisco-Eagle's ESOP, visit our ESOP page. 

---
Scott Stone is Cisco-Eagle's Vice President of Marketing with more than thirty years of experience in material handling, warehousing and industrial operations. His work is published in multiple industry journals an websites on a variety of warehousing topics. He writes about automation, warehousing, safety, manufacturing and other areas of concern for industrial operations and those who operate them.
What can we help you with?