OSHA's 2017 Top Ten Violations—and Their Effect on Warehousing
The most cited safety violations of the past year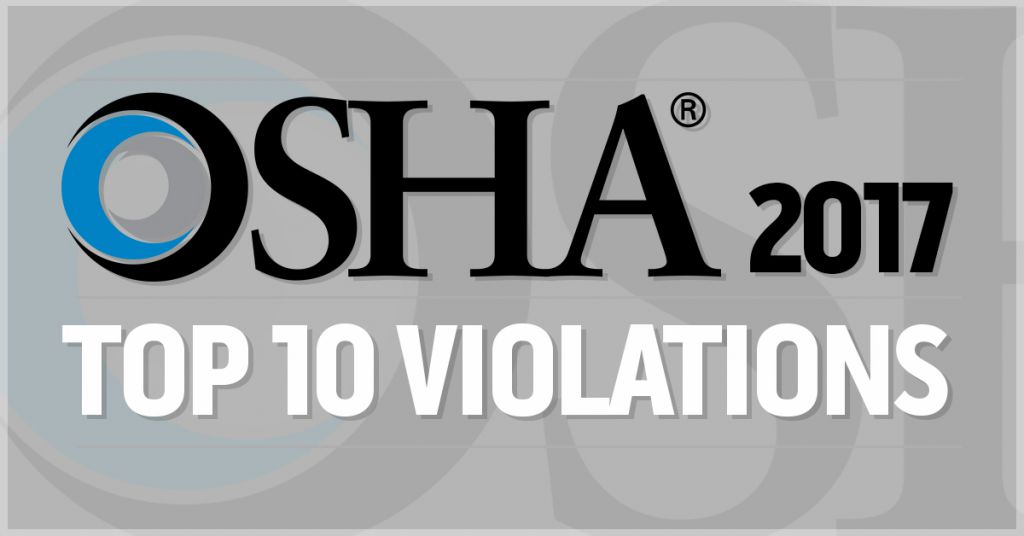 The Occupational Safety and Health Administration (OSHA) has announced the 10 most frequently cited workplace safety violations for fiscal year 2017. While none of the items on the list were especially surprising, all types of violations should give you cause to stop and think about how well you've done with safety in those areas.
The Countdown
10. Electrical Wiring Methods
Faulty electrical wiring methods accounted for 1,405 violations—down from 1,937 in 2016. Frequent violations include improper use of extension cords.
Learn more at: 1910.305
9. Fall Protection Training Requirements
There were 1,523 fall protection training violations in 2017. This category wasn't on the top ten list in 2016. It is critical for warehousing to reduce falls due to slips and elevated heights and other potential hazards.
Learn more at: 1926.503
8. Machine Guarding
There were 1,933 total violations in 2017—down from 2,448 in 2016. Machine guarding is meant to protect workers from point-of-operation hazards and dangers caused by ingoing nip points, rotating parts, flying chips and sparks. Point-of-operation hazards account for most violations.
Learn more at: 1910.212
7. Powered Industrial Trucks

Equipment included are fork trucks, tractors, platform lift trucks, motorized hand trucks and more. Forklift drivers must be trained, certified and reevaluated every three years. Improper fork lift use and training account for many violations. There were 2,162 violations in 2017 compared to 2,855 in 2016.
Forklifts and other industrial traffic can be particularly dangerous in warehouses or sites that utilize them. This has been a focus for many of our clients. Aside from training, there are options like automated gate systems, safety/warning sensors, simple running lights, and guardrails to help restrict interaction between forklifts and people.
Check our blog for extensive information on methods and technologies for improving forklift/pedestrian safety. 
Learn more at: 1910.178
6. Ladders
Improper use of ladders resulted in 2,241 citations in 2017 compared to 2,625 in 2016. To keep your workers safer, insist on safety training and then enforce the rules. OSHA standards address load capacity, step surfaces, clearances, ladder cages, and even step stools.
Ladders are a constant companion to fall related issues and violations. In general you should have a defined ladder safety program and install other means to reach areas at height when possible. Crossovers, platforms and other solutions should be deployed whenever possible. In a warehouse, so much of the maintenance occurs at height due to tall ceilings, picking from racks, and other means of elevating workers. While ladders are safe for those functions if correctly specified, it's always best to find ways to minimize these types of risks.
Learn more at: 1926.1053
5. Lockout/Tagout
Violations have dropped by 529 to 2,877. Lockout/tagout procedures are meant to safeguard employees when machinery starts up unexpectedly or when hazardous energy is released during maintenance activities. Failing to train workers or conduct periodic inspections account for many violations.
Lockout/tagout is really important for warehouse operations where maintenance is done on conveyors, forklifts and other common equipment.
Learn more at: 1910.147
4. Respiratory Protection
Violations fell by 476 to 3,097 in 2017. Violations include failing to have a written respiratory-protection program and failing to conduct required medical examinations for workers who use respirators.
Standards for when respirators are needed and the types of respirators required at given at: 1910.134
3. Scaffolding
There were fewer scaffolding violations in the construction industry in 2017 (3,288) than in 2016 (3,900). Safety violations include issues with scaffold construction, employee access to scaffolding surfaces and lack of guardrails.
Learn more at: 1926.451
2. Hazard Communication
There were 4,176 citations in 2017, which is down from 5,665 in 2016. Employers that use hazardous chemicals must have a written hazard communication program. They are also required to label all containers and provide safety data sheets and training to employees.
Learn more at: 1910.1200
1. Fall Protection
There were 6,072 fall protection violations in the construction industry. This number is down from 6,906 in fiscal year 2016. These violations include failing to guard edges and open sides to prevent workers from falling.  Guard rail, handrail, mezzanine gates, caged ladders, hatch and skylight protectors can help prevent falls in your facility.
Get the full standard at: 1926.501
What else should you consider?
Note that new rules on fall protection, ladders and walking/working surfaces may lead to changes in the top violations for fiscal year 2018. Regardless, these citations offer clear warning of what is catching OSHA's eye when inspecting a site, so make sure your Safety Department reviews the regulations and evaluates how well you meet the standards.

Tags: industrial safety, Material Handling, OSHA, OSHA Violations, Safety & Ergonomics, Warehouse Management, warehouse safety
---
What can we help you with?