Cisco-Eagle Named "Partner of the Year" by Western Pacific
Partners for shelving, mezzanine and other storage projects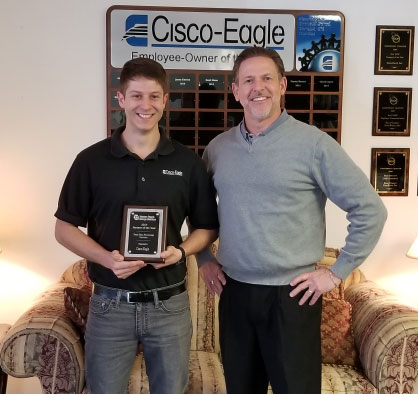 Above: Cisco-Eagle's Ryan Vissotzky and Stacy Corn of Western Pacific
Western Pacific, a major manufacturer of engineered shelving and high-density pick modules, has named Cisco-Eagle its Partner of the Year for 2017. The award was based on customers serviced, outstanding sales volume achievement and year-over-year sales volume percentage increases.
Western Pacific partners with Cisco-Eagle to serve the needs and demands of leading innovators in supply chain management with the highest level of products and services possible – unmatched engineering capabilities, project management and customer service along with two manufacturing plants and three well-stocked distribution centers make for a best-in-industry force – going to market with premier material handling solutions providers and integrators like Cisco-Eagle.
"I am honored to recognize Cisco-Eagle for their hard work, industry knowledge, expertise, commitment and dedication to serving distribution, warehousing and manufacturing industry with best-in-market quality services and solutions" says R. Stacy Corn, Regional Sales Manager for Southern U.S. markets including Texas, Oklahoma and Arkansas.
About Western Pacific
Western Pacific Storage Solutions prides itself on "Serving The Smartest Links in the Supply Chain". The company's offerings include shelf-supported mezzanines, rivet shelving, steel shelving systems, and much more.
"We consider Western Pacific a critical partner when it comes to serving our customers," said Cisco-Eagle president Darein Gandall. "Working with vendors like them helps us make sure we are doing what our customers need to succeed in their operations. To me, it's their ability to help us get things done for customers that matters most. They are a great resource."

---
Scott Stone is Cisco-Eagle's Marketing Director with three decades of experience in material handling, warehousing and industrial operations. He writes on automation, warehousing, safety, manufacturing and other areas of concern for industrial operations.
What can we help you with?