Cisco-Eagle Wins Most Effective ESOP Committee Award
We are employee owned, operated and managed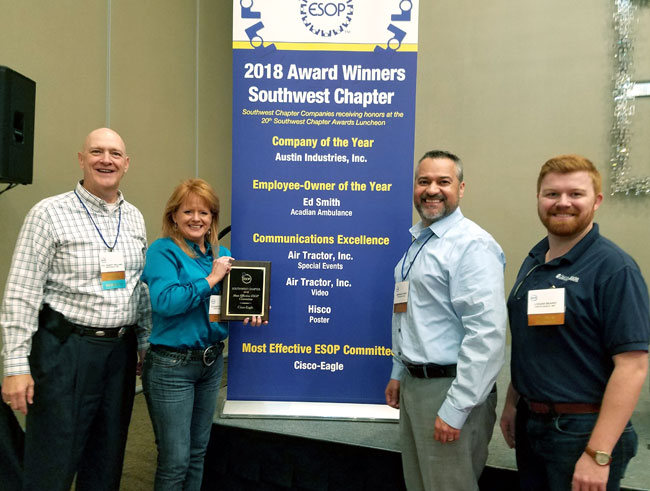 On March 23, The ESOP Association's Southwest Chapter awarded Cisco-Eagle's ESOP Committee for being "Most Effective". This award recognizes the most effective ESOP Committee of a Southwest Chapter Member Company. It considers the committee's activities and programs for promoting the ESOP in their company. The award was granted at the 20th Annual Awards Luncheon, which was held in conjunction with The Southwest Chapter Spring Conference in Grapevine, Texas.
Education and communication
The committee's mission is one of education and communications.
It publishes monthly ESOP Newsletter, the ESOP Super Scoop, based on this year's superhero theme. The newsletter is printed and posted throughout each office and highlights activities, provides educational articles, offers contests and puzzles, and sheds light on the inner workings of the Committee.
During October's Employee-Ownership Month, we tailor a run of games and activities designed to educate employee-owners while having fun and winning prizes. Last October's activities included:
ESOP Scavenger Hunt – Employees-Owners were tasked with collecting hidden letters on our website and unscrambling them to discover ESOP terms
Wednesday Word Wisdom – Each Wednesday, we sent out crossword puzzles, definition match games, and word finds
Contests – ESOP Employee-Ownership Month Poster Contest and Chapter BBQ Events
Other yearly educational opportunities included a presentation on the history of our ESOP, The Value of a Dollar, Statement Reading Guide, and New Participant Training. There are prominent ESOP posters in all our facilities, as well as electronic billboards in several that tout employee ownership.
Cisco-Eagle will compete for multiple ESOP awards in May 2018 at the ESOP Association's national awards in Washington, DC.
Cisco-Eagle has been employee-owned since 2000
"We've always believed in empowering employees," said Cisco-Eagle president Darein Gandall. "When your owners have stock in the company, they are more engaged. They create a better customer service experience. The committee's award this year reflects their hard work and commitment to these ideals. I truly appreciate the work they do."

Tags: Employee ownership, ESOP, ESOP Association
---
Scott Stone is Cisco-Eagle's Vice President of Marketing with more than thirty years of experience in material handling, warehousing and industrial operations. His work is published in multiple industry journals an websites on a variety of warehousing topics. He writes about automation, warehousing, safety, manufacturing and other areas of concern for industrial operations and those who operate them.
What can we help you with?