Gerardo Perez is Cisco-Eagle's 2017-2018 Employee-Owner of the Year
Awarded by a committee of employee-owners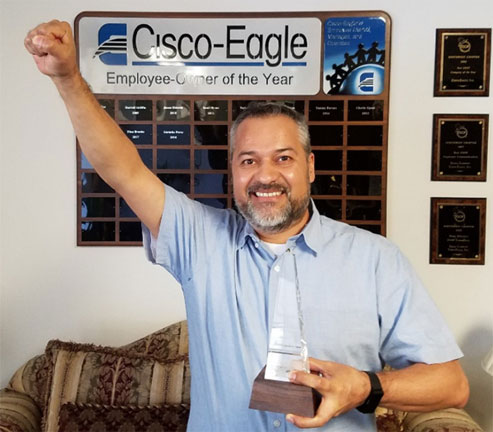 Gerardo Perez has been named Cisco-Eagle's ESOP Employee-Owner of the Year for 2017-2018, an annual award presented by Cisco-Eagle's ESOP (employee ownership) Advisory Committee. The employee-owner of the year award is awarded by a committee of peers based on a nomination process that includes all employees.
Perez is a Systems Administrator out of our Dallas office. A seven-year veteran, he keeps our company's computer and network up and running, which is no small challenge given the variety of users and multiple remote offices to deal with. He exemplifies every positive quality Cisco-Eagle strives for in an employee-owner.
"Above and beyond"
The award recognizes an employee-owner who has gone beyond what is expected to promote and support ownership culture. Cisco-Eagle believes that empowered, fully-invested employee-owners help us provide exceptional customer service and better business results. Gerardo embodies these qualities with his constant willingness to help his fellow employee-owners and his engagement in activities that better the entire organization.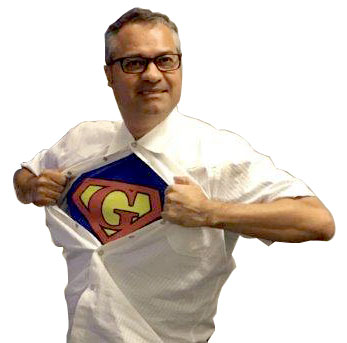 Criteria for employee-owner of the year
Goes above and beyond what is expected
Participates in events and/or committees
Demonstrates exceptional character traits
Supports and promotes ownership culture
Gerardo has all these attributes and many others that made him an easy choice for the committee. He is a member of our ESOP committee, he's an excellent communicator, and has strong values. He's a stalwart participant in huddles and other events.
One key factor for the Employee-Owner of the Year is that it is awarded by employee peers, not management
"A sunny disposition and willingness to help"
Perez is exceptional at serving his fellow employee-owners with quick answers and fast help when problems occur. He's known for his optimistic outlook and friendly service.
"Since coming on board, Gerardo has continued to support our associates with the best bedside manner available in the IT industry," said Bob Hauck, Cisco-Eagle's Chief Information Officer. "He not only supports our users, but also our CIT staff.  He contributes both socially and professionally. Whether it is popping popcorn, hanging a TV or providing CIT Orientation to our new Associates, Gerardo is always smiling and looking for the best way to support everyone involved any way possible."
"Through the years, Gerardo's talents and efforts have been key to our success," said Cisco-Eagle President Darein Gandall. "I'm proud of his accomplishments and commitment to excellence. Congratulations to Gerardo for being our Employee-Owner of the year!"

---
Scott Stone is Cisco-Eagle's Marketing Director with three decades of experience in material handling, warehousing and industrial operations. He writes on automation, warehousing, safety, manufacturing and other areas of concern for industrial operations.
What can we help you with?