How Our Customers Rate Cisco-Eagle
Cisco-Eagle works to provide the best experience, but we know we'll never be perfect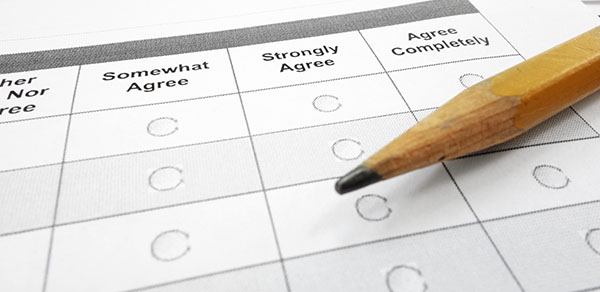 Any company can–and usually will–tell you it has great service. It's easy to say that, but impossible to prove it. Until you've dealt with that company, you can't know how good the experience will be. In some cases, you may get great service one time, poor service the next. Companies that dedicate time and effort to improving customer service systematically will tend to be more consistent and better at it. That's what we're trying to do.
Cisco-Eagle pulls back the curtain and releases our ratings, reviews and survey results, so you get to see where we are highly-rated–and where we need to improve. The survey we distribute is simple and short, but tries to get to the heart of service. Here are the specific questions and our percent satisfied for 2019: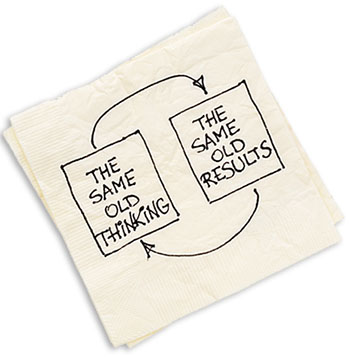 Please rate Cisco-Eagle's ability to handle your request/order in a timely & efficient manner
Our score: 94%
Responsiveness is the core of service, and we are getting better at this critical aspect. All-time, our rating from customers has been 88%, but we've jumped 6% this year, to 94%. We attribute this to process improvements, an emphasis on urgency, more resources and better technology to improve your experience with us when you ask for something (a proposal, drawing, an idea, a response on order information).
Half of life, as they say, is showing up. For us, that means answering your questions and inquiries faster than anyone else in the industry. One of our strategic directives is to maintain a sense of urgency, and that has helped us improve this rating.
What do we have in store moving forward?
We are working to unify technologies that will help us be faster and more responsive. We are also more fully staffed for critical customer service positions and are dedicating more resources to being faster. If a company can't dedicate resources to responsive customer service, that company isn't capable of rapidly responding to its customer needs, so we fully staff those positions.
Customer comments:
"All emails were followed with a confirmation of receipt so I knew it was received. That was huge on my part, sometimes I send emails to suppliers and they never respond, I'm not even sure if they received them. This way I knew it was received and I would receive a response soon."

"We are in automotive and we seem to expect the same 'immediate' attention we must give our customers. Response somewhat slow."

" I was looking for a ballpark cost estimate for feasibility purposes and received a quick professional response. Thank-you."
How would you rate Cisco-Eagle's pricing as compared to the competition?
Our score: 88%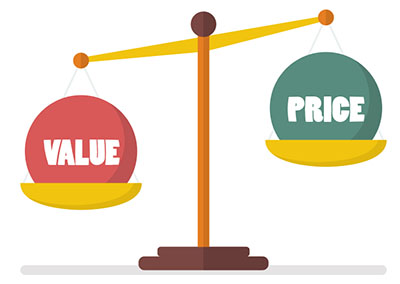 Pricing has been difficult the last 12 months, driven by trade concerns and the effects they have on steel supplies. We fell 3% from 91% satisfied to 88% satisfied in this category. We are working to improve pricing strategies so that we are always competitive in this regard.
We price about 35,000 items online and realize that this is a relatively small number of products compared to the selection available. Many of our competitors don't price on their websites, which we believe reduces customer convenience and choices. We want to be transparent about those prices. Of course, many of our prices are for projects and systems that aren't online.
We want to be as competitive as possible in both cases without sacrificing quality.
Please rate Cisco-Eagle's website overall
Our score: 94%
We constantly work on our website and attempt to make it an invaluable resource for our customers, from pricing to how-to articles to white papers and video. Customers rated the site better by 1% in 2019, vs. 93% in 2018. We added hundreds of new products, videos and blog pages this year to help our customers work better. We always want to help you in person, but sometimes you need quick information and we believe that we have the best resources in the industry.
Customer comments
"Easy to navigate. Tons of helpful information. A pleasure to use."

"Could not find what I wanted, needed to speak to a rep."

"Great place to get ideas, get quick understanding of what each item is."
How likely are you to recommend Cisco-Eagle to others?
Our score: 88%
This is a question we have some difficulty with, as many of the negative answers comment that they don't or can't recommend companies in their job functions. Also, it's a big thing to ask someone to recommend a company. After all, if we don't perform, then you've recommended something to a friend or colleague that didn't work out for them. Customers do refer us, and we're always grateful for that. In 2019, we lost ground, moving from 90% to 88% this year.
This question generated many responses along the lines of "you were good, but I don't recommend things to others in my job."
Customer comments
"Website and customer service excellent!"

"Did not receive pricing for the item I was looking for."

"Your customer service and reps were much better than the other 3 companies I got quotes from. That was the difference because your price was definitely higher than average."
How likely are you to purchase from Cisco-Eagle in the future?
Our score: 87%
We slipped backward by 2% vs. 2018. Even realizing that many answered that they may not be in the market for similar solutions moving forward, this was a rating we aren't satisfied with and will work to improve. What we want to do is be the company that you can rely on, even if it's only once in a while.
Customer comments
"We try to purchase locally."

"Your prices are fair….but shipping costs make purchasing from your firm unfeasible." 

"Missy, my sales associate, was very helpful and made my order process very simple and quick."
Reviews and ratings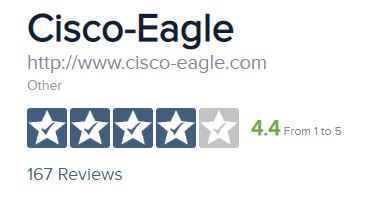 Aside from our ongoing survey, we solicit reviews and ratings from our customers from TrustSpot. These ratings are instantly published when customers complete them, and whether good or bad, we can't affect them or delete them. This can help you understand the customer service experience with Cisco-Eagle.
Customers can rate us from 1-5 stars in this system. As of 10/14/19, we have the following ratings:
5 Stars: 123
4 Stars: 21
3 Stars: 6
2 Stars: 8
1 Star: 9
The cumulative rating is that we are scoring 4.4/5.0 on ratings, and have achieved a trust score of 8.89/10 according to TrustPilot's system. These scores trend similarly to our survey results, and will always be available for review for our customers and potential customers.
Where we go from here
We will identify the weak points in our processes and work to improve them. We want to make information much more accessible and available. We're working to respond faster than anyone in the industry, whether the need is large or small. Our core belief is that great service results from a combination of empowered employee-owners, processes and resources. We have great people, and we are working to empower them with the resources and processes to make sure our customers are always happy with the results.
We'll update these numbers as they change, and we'll take the comments and shortfalls to heart.
---
Scott Stone is Cisco-Eagle's Vice President of Marketing with more than thirty years of experience in material handling, warehousing and industrial operations. His work is published in multiple industry journals an websites on a variety of warehousing topics. He writes about automation, warehousing, safety, manufacturing and other areas of concern for industrial operations and those who operate them.
What can we help you with?