Rebekka Carr is Cisco-Eagle's 2019-2020 Employee-Owner of the Year
This annual award is determined by fellow employee-owners, not management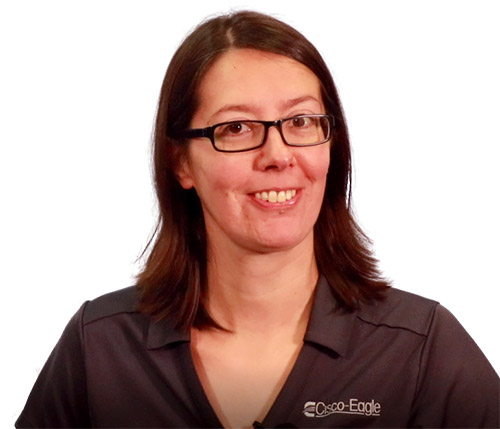 Rebekka Carr has been named Cisco-Eagle's ESOP Employee-Owner of the Year for 2019-2020, an annual award presented by Cisco-Eagle's ESOP (employee ownership) Advisory Committee. The employee-owner of the year is awarded by a committee of peers, based on nominations from all Cisco-Eagle employee-owners. This is a critical part of the award: employees–not management–determine the winner.
Rebekka works in Cisco-Eagle's marketing department as a Product Data Coordinator. She is responsible for product data on our website, building solutions, maintaining prices, and ensuring we add new and innovative products. She has been with Cisco-Eagle since 2016. Her role is critical in our expanding eCommerce business, and in serving customers faster and more efficiently.
"She's always happy to help"
The award recognizes an employee-owner who has gone beyond what is expected to promote and support our employee ownership culture: empowered, fully-invested employee-owners help us provide exceptional customer service. Rebekka's willingness to go above and beyond to serve her fellow employee-owners promptly and professionally helped her win the award, but she also works hard on activities such as serving as the chairperson of our ESOP committee, volunteering at the Northeastern Oklahoma Food Bank, and more.
"I can't imagine the marketing department running as well as it does without Rebekka," said her supervisor, Jeremy Beckett.
Video production excellence
Rebekka is a talented video producer as well. Aside from the many videos she has created for the Cisco-Eagle website for products and services, she authored our employee ownership video, which won the 2020 Southwest Chapter award for best ESOP video, and is competing for the national award.
Accomplishments
Rebekka is responsible for coordinating prices and new products for the website, often working with our vendors to ensure accuracy and current information. She adds hundreds of products to the website every year, while maintaining accurate prices and specification data for thousands more.
Her co-workers often mention her willingness to take the lead on projects–even if that means dealing with difficult and complex issues.
"Rebekka is an active participant in what I call working on the company, rather than just working in it," said Cisco-Eagle president Darein Gandall. "She's at every company-wide huddle. She does all the available training. She's always working on ways to make things better."
"She also brings tasty breakfast in when it's her turn in our office breakfast club," added Beckett.
About our ESOP ownership
Cisco-Eagle provides exceptional service by employee-owners. We believe that no one provides better service than an owner, and based on our customer service ratings, it appears our customers would agree. Our employees are all shareholders. We have been employee-owned since 2000. For more information about our ownership culture, visit our ESOP page. 
---
Scott Stone is Cisco-Eagle's Vice President of Marketing with more than thirty years of experience in material handling, warehousing and industrial operations. His work is published in multiple industry journals an websites on a variety of warehousing topics. He writes about automation, warehousing, safety, manufacturing and other areas of concern for industrial operations and those who operate them.
What can we help you with?