Remembering our Friend, John Owen
A legacy of friends, humor and strength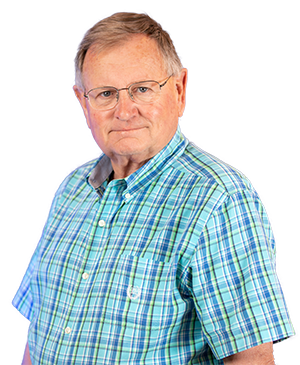 John Owen, a Cisco-Eagle employee-owner, caster specialist and friend to all of us for almost 30 years, passed away after a battle with cancer on July 10, 2020. He had just turned 70. His charisma and innate desire to help people made him a great salesman, but also defined the way he lived his life and treated the people in it.
He liked making things better
To say John was a car guy is a huge understatement. He loved NASCAR and all other types of racing. He grew up going to nightly races in Tulsa and never missed a Chili Bowl event. His passion–he liked it too much to call it a hobby–was buying, fixing and selling wrecked cars.
He'd tell you he did it to make money, but I doubt that was the entire reason or even the primary one. He didn't know for the most part if he actually made much profit selling those cars, and likely didn't care. John loved cars and he loved people, so the chance to work on cars and work with people was right down his alley.
John's cars were low-priced and sold to people who needed inexpensive transportation–kids, working families and others who couldn't afford new cars. A good Saturday for John was watching a race at his shop and selling a car to someone who needed a good ride. He knew their stories; he'd come to the office and catch you at the coffee pot to talk about a divorced mom, working class guy or broke college student who bought a car from him.  He liked working with the people more than he liked fixing the cars.
He also warned his car buyers that once they took ownership, that was it. But he'd end up going to fix cars for his customers who needed it. They ended up coming back to him over and over, just like his caster customers at Cisco-Eagle did. In both cases, it was because they knew he cared and would make it right.
John liked making things better–people, casters and cars
He treated his work like he treated his cars: he made things better. This trait made him a great salesman. His customers were fiercely loyal. He'd solve problems for them and get them what they needed, but he also knew their stories. He knew who their kids were and what they liked to do. He made his customers look good to their bosses.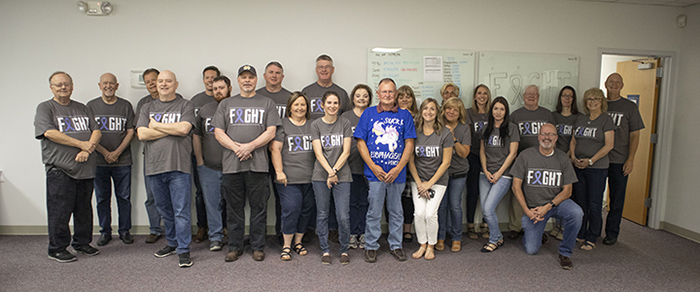 Above: John with his Cisco-Eagle family
Genuinely interested in people
Around the company, people who needed a first car for their teenager or advice on fixing their car went to John, and he always had time. He'd order you a set of slightly used tires or a part from salvage to save you a few bucks. He was our go-to guy. He'd do you any favor and always seemed to want to help out. If he took anything in compensation, it was a lunch, usually at a local taco truck.
His interest in our personal lives was deep and genuine. He'd ask you about trivial things or problems you discussed with him months or years before, both personal and professional. I'm not sure how he ever got any work done, because if he was in the office, people always wanted to talk to him.
John was the most self-deprecating person I ever knew. He once told me this: "I'm a lesson-teacher. I didn't mean to be, but people can always learn from my mistakes."
One of those lessons was how to endure tough times with grace, humor and strength. Between the death of Wendy, his wife of over four decades, and his subsequent cancer diagnosis, I never heard him complain one time. I doubt anyone did. John wasn't a guy who tried to sell you on his strength, but he sure had it.
John was highly educated–he had a Bachelor of Business Management degree from the University of Tulsa–but you'd never know it. He downplayed how smart he was and played up his foibles. He was more comfortable with guys who had grease under their fingernails than he was guys who wore ties. I don't think I ever heard him brag about himself. About his daughter and son, sure, but never himself.
He was famous for jokes and pranks, for laughs and good company. He didn't like boring rooms, so he worked to make them interesting.
Anyone who shared an office with him knew how he answered the phone when asked how he was doing. "Well, I've been down on my back a little. My dog died, my truck won't start, and my wife ran off with another woman." If you worked with John, you heard him say that hundreds of times.
A man of small kindnesses
I ran into John at the grocery store at a time when I barely knew him in the early 1990s. His family was having a cookout and he invited me to join them. I was just out of college and living in an apartment, so a cookout was a treat. Inviting me was a small thing, but I never forgot it. Everyone who worked with him probably had a story like that.  John extended everyone small kindnesses like that to countless people over and over for as long as I knew him.
When he knew he was dying, John wanted to take care of the people around him.
He spent time with his daughter and grandson. He arranged his own memorial service–a party, not a funeral, he said. But he didn't leave it at that. He wanted to leave nothing to chance at work, so before he passed away, he hired his own replacement. He told me that he didn't want anyone else to have to do it and he wanted to be sure his customers were taken care of. Lots of people pre-plan their memorial service, but it takes a rare man to care so much that he recruited his work replacement so that there wouldn't be any burden on his co-workers.
That was John: he took care of people. He sold casters, fixed cars and helped everybody around him.
John was preceded in death in 2018 by his wife Wendy, whom he loved deeply ever since meeting her in Anthropology class at the University of Tulsa in the mid-1970s. He is survived by his two children, Jennifer Owen Scott and Spencer Evan Owen, and his grandson Liam, plus legions of friends and colleagues. We're a family company and one of ours has departed. He'll be missed every day.
---
Scott Stone is Cisco-Eagle's Vice President of Marketing with more than thirty years of experience in material handling, warehousing and industrial operations. His work is published in multiple industry journals an websites on a variety of warehousing topics. He writes about automation, warehousing, safety, manufacturing and other areas of concern for industrial operations and those who operate them.
What can we help you with?