Plastic Chain Conveyor Applications
Link processing and distribution with highly flexible, easily cleaned belt designs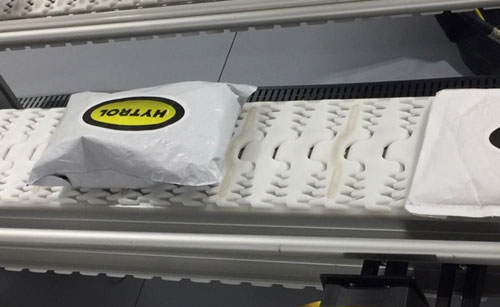 Plastic chain conveyors are ideal in situations where you're conveying relatively lightweight loads in relatively tight spaces and need a conveyor that can be plugged into machinery, sorters or other conveyors. What are some of the situations and applications where plastic chain can be specified?
The most common industries are cosmetics & personal care, eye care (optical products like glasses or contact packs), plastics, automotive, small parts, food and beverage or any setting where small items require tighter handling specifications.
Flexibility: turns, twists and tight areas
Adaptability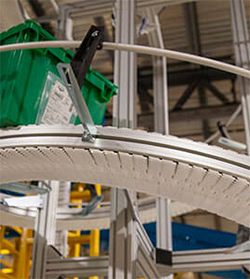 Plastic chain is probably the most adaptable belting type available. It easily turns and flexes to incline, decline, loop or spur in tighter radiuses than most rollers or belts. You can snake it around, over, beneath or between columns, supports, machinery or other obstructions in ways other conveyors can't match. When it comes to machine integrations, plastic chain lets you plug almost anything into almost anything. The biggest advantage here is the space you'll save by reducing run lengths, slashing the number of product transfers and creating tight buffers.
Sizes
Plastic chains can be manufactured in a large variety of widths, meaning that you can build a belt for more or less any size product or application. This gives you excellent flexibility when it comes to matching belts, loads and integrations to other elements within a system.
Sanitation factors
Pharmaceutical and food production companies use these conveyors because their business depends on extremely demanding sanitary standards. Plastic chains are waterproof and easy to clean and sanitize, and they reduce bacteria growth.
Drainage is built-in
Although it's used in many other applications, plastic chain conveyor is often thought of as a food-grade conveyor first. That's because it's very good in those roles. These conveyor belts have an open design, with plenty of space for water and airflow. This helps with cooling but is also key for food applications that require cleaning. Since liquid easily rinses off the belt and through its mesh design, drainage is faster and cleaner with fewer places for grime to accumulate compared to a normal belt.
Water and detergent resistance
Washdowns are common in food handling and storage applications, and plastic chains are used because they handle this better than most any other belt type. Since they're easier to clean, they save labor and time, and the plastic material resists most cleaning chemicals and detergents, depending on type and application. Due to its interlocking component construction, a plastic chain conveyor doesn't slip as easily when wet, so products on it convey more reliably in humid, moist or wet conditions.
Durable design and construction
Plastic chain conveyors are modular, built with plastic components linked by metal cross-pins. These hard plastic pieces are tough and can stand up to the wear and tear of most any application. Also, in the rare event of a damaged link, they're a snap to repair. Just replace the damaged piece rather than an entire belt. You can do this without removing the belt from the bed, which means it takes less than 15 minutes in most cases.
Videos
Plastic chain pallet conveyor
Plastic chain conveyor overview
Tags: Conveyor
---
What can we help you with?