Kevin Harwell is our 2020-2021 Employee-Owner of the Year
A relentless worker, elite project manager, leading salesperson and customer advocate for three decades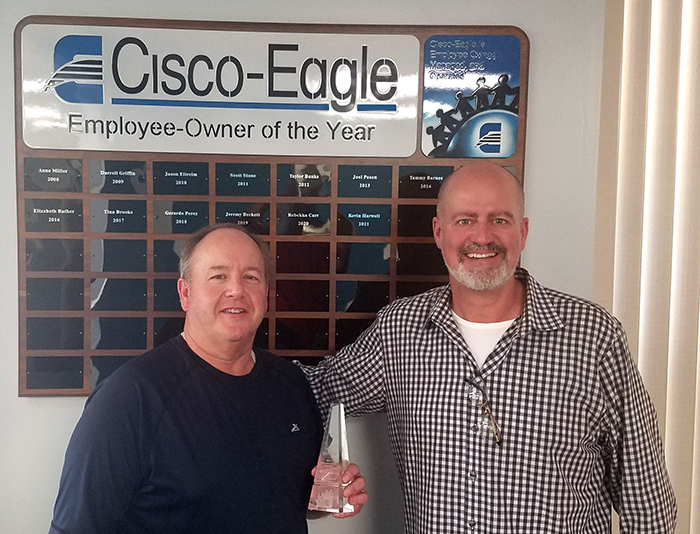 Kevin Harwell is Cisco-Eagle's ESOP Employee-Owner of the Year for 2020-2021, an award presented every year by Cisco-Eagle's ESOP (employee ownership) Advisory Committee. The honor is awarded by a committee of peers, based on nominations from all Cisco-Eagle employee-owners. Employees–not management–determine the winner.
Kevin leads our most successful project sales and implementation team. This demanding job constantly takes him on the road where he works in large manufacturing and distribution facilities across the United States. He's involved at all levels of material handling systems implementation from design to project management.
"Kevin's impact on Cisco-Eagle and its customers can't be overstated," said Cisco-Eagle President Darein Gandall. "He's been at the center of our largest clients and projects for thirty years. Kevin is an elite project manager, a talented salesperson and better than anyone I know of at serving customers."
A foundational employee-owner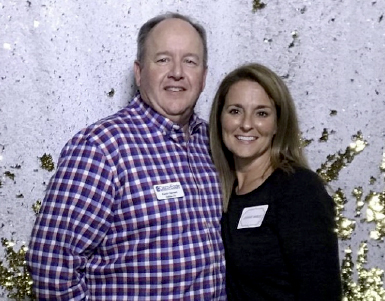 "Cisco-Eagle prides itself on the way we retain employees," said President Darein Gandall. "The ability to hire, develop and retain key personnel gives us an edge in experience and expertise that greatly benefits our customers. Kevin is the best example of the way this works. He's the kind of person you want more of in your company."
He joined Cisco-Eagle in 1991 as an AutoCad operator. He quickly became an indispensable performer in our systems integration group and was assigned to work in our most important customer accounts as a project manager, where he implemented scores of large-scale material handling projects across the United States.
Kevin excelled to the point that a customer once wrote in a survey that the only way we could perform better was to "hire more Kevins." 
During a difficult pandemic year, Kevin and his team navigated the tough task of fulfilling large projects in multiple geographic areas. They fought travel restrictions, manufacturing delays, subcontractor availability and facility lockdowns to keep critical food and e-commerce customers up and running during an unprecedented era of uncertainty, all while keeping everyone involved safe.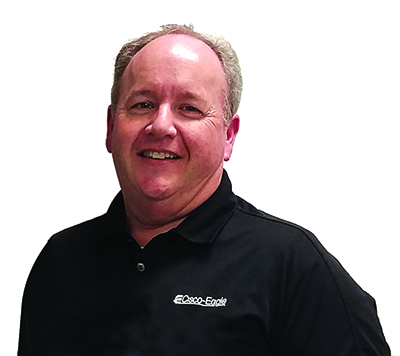 "This was the toughest year for project execution our industry has seen," said Darein Gandall. "We had every issue imaginable — installer availability, lockdowns, quarantines, you name it. Manufacturers were shut down or crippled due to outbreaks. Kevin has always been the best in the business at this, but to do what he did in these circumstances was nothing short of magic."
A record number of nominations
Harwell is so deeply respected by his fellow employee-owners that he received more nominations for this award than anyone else in company history. Here is some of what his fellow employee-owners said about him:
"Kevin seeks no recognition or pats on the back," said one of our employee-owners in his nomination. "He just does his job to the best of his ability and comes through in a very big way. He spends time away from his family to see projects through across the country to ensure the customer is taken care of, and we're all better off for it."
"He's an innovator, constantly morphing and changing and adapting to this ever-changing environment. He's got great experience in every aspect of our business. He's a leader to all other salespeople. I cannot think of someone more deserving of this than Kevin."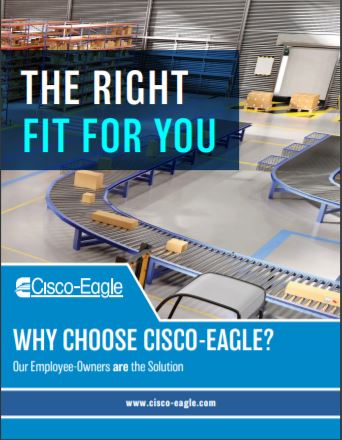 "Kevin is one of the most dedicated individuals I've ever worked with. He spends countless hours ensuring our success."
"As a group leader, he leads his team well. He expects excellence, which is nothing more than he expects of himself. "
As busy as he is, Kevin is always willing to help advise and guide younger people in the company. It's for these reasons and many others that we are proud to announce him as our 2020-2021 Employee-Owner of the Year.
About our employee ownership
Cisco-Eagle provides exceptional service by employee-owners, who hold 100% of the company's shares.
We believe that no one provides better service than an owner, and based on our customer service ratings, it appears our customers would agree. Our employees are all shareholders. We have been employee-owned since 2000. For more information about our ownership culture, visit our ESOP page.
More about Cisco-Eagle
---
Scott Stone is Cisco-Eagle's Vice President of Marketing with more than thirty years of experience in material handling, warehousing and industrial operations. His work is published in multiple industry journals an websites on a variety of warehousing topics. He writes about automation, warehousing, safety, manufacturing and other areas of concern for industrial operations and those who operate them.
What can we help you with?