Cisco-Eagle Receives Awards from Steel King, WireCrafters
Recognized for sales, customer service and more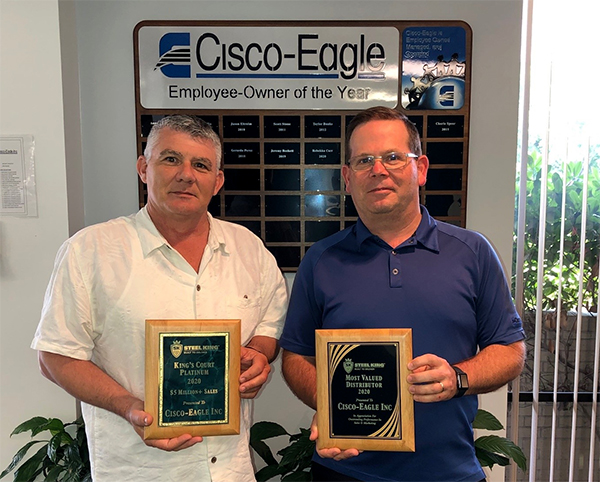 Pictured: Cisco-Eagle VP of Sales James Murphy and Senior Project Manager Larry Victory
Two of our leading manufacturer partners, WireCrafters and Steel King recently awarded Cisco-Eagle for outstanding performance in 2020.
Steel King: Most Valuable Dealer
Steel King Industries, which manufactures pallet racks, cantilever racks, steel containers, premium guard rails, mezzanines and other high-quality storage and warehousing equipment, named Cisco-Eagle its 2020 Most Valuable Dealer–our seventh win since 1996. We also won an award for exceeding $5 million in total sales.
Says Don Heemstra, Steel King VP Sales, "We congratulate Cisco-Eagle on achieving Most Valuable Dealer status for 2020. For a company to show year-over-year growth and position themselves as an industry leader with their sales and marketing efforts is impressive, especially as it was achieved during a worldwide pandemic. Our hats are off to the Cisco-Eagle leadership and all their employee-owners. Our MVD program originated in 1996 and this marks the seventh time Cisco-Eagle has achieved this status. Well done."
WireCrafters presents Cisco-Eagle with $1 million+ sales award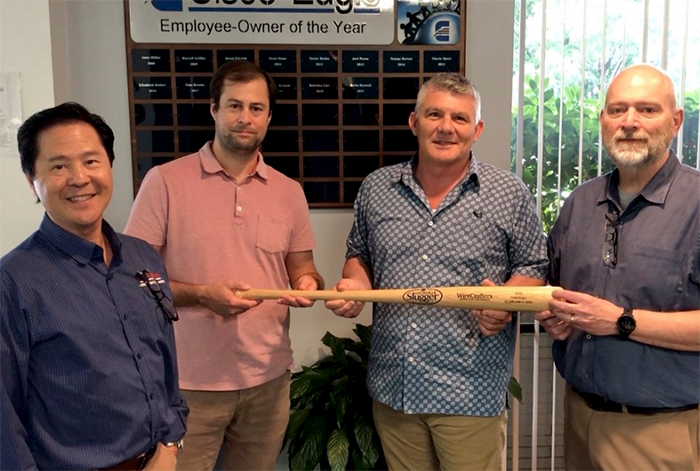 Pictured, left to right: Garry Yuen of WireCrafters with Cisco-Eagle's Taylor Banks, James Murphy and Scott Stone
For the third consecutive year, WireCrafters honored Cisco-Eagle with the best sales trophy in the business–an authentic Louisville Slugger. The award is given for distributors who achieve more than $1 million in annual sales. We're a longtime partner with WireCrafters, a manufacturer of the best wire security partitions, machine guarding, tenant lockers,  rack security cages and pallet rack backing in the industry.
Said Garry Yuen, Southeast Regional Manager for WireCrafters: "It's rare to perform at this level for as long as Cisco-Eagle has. WireCrafters celebrates Cisco-Eagle's phenomenal 2020 results by reaching rarified air with sales over $1 million! WireCrafters sincerely values its partnership with Cisco-Eagle."
Committed to partnership with premier manufacturers

We pride ourselves on having some of the longest supplier relationships in the industry. These relationships with so many high-quality equipment suppliers means that we can prioritize projects for our customers and ensure performance more effectively than those companies that lack our buying power or track record.  Few competitors can match our influence with key manufacturers and strategic partners who provide critical expertise and custom manufacturing that can make your project successful.
Said James Murphy, Vice-President of Sales for Cisco-Eagle: "WireCrafters and Steel King are the kind of partners we choose to work with because they're focused on helping us and our customers succeed. They make some of the best equipment in the business. They both back it up with great service and are as committed to our customers as we are. They do what they say they'll do and are partners in every sense of the word."
---
Scott Stone is Cisco-Eagle's Vice President of Marketing with more than thirty years of experience in material handling, warehousing and industrial operations. His work is published in multiple industry journals an websites on a variety of warehousing topics. He writes about automation, warehousing, safety, manufacturing and other areas of concern for industrial operations and those who operate them.
What can we help you with?