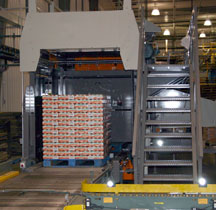 With the growing popularity of automating the palletizing function, we arranged an interview with vonGAL, a leading manufacturer who has the largest installed base of palletizers in the country. Bobby Edmond is vonGAL's Director of Applications, and has been in the business for 25 years. He has seen applications in a wide range of industries, and in companies large and small. I asked him if he would take time to share his thoughts, and answer a few questions of interest to those that might be considering palletizing for the first time.
---
This article is part of a series of articles on
Palletizers
. Click on a link below to view one of the other articles.
Palletizer Perspectives: Is Palletizing Suitable for My Operation?
---