Safely move pallets, skids, containers and other loads on and off your mezzanine with a mezzanine safety gate. It works with almost any mezzanine, including new platforms or a mezzanine already installed in your facility. It is easy to install and use, providing a system where it is nearly impossible for a worker to enter the gate when a pallet is being loaded or unloaded.
Individually Actuated Spring-loaded Gates
Simply push pallet load forward with forklift once at mezzanine height
Spring loaded bars close around sides of load preventing access to mezzanine edge
Individually actuated bars move to close completely as pallet is unloaded, keeping workers away from dangerous falls
Once pallet is empty or moved away from edge, bars close completely, making a safe barrier
Pivot Safety Gates for Load/Unload Points
Simply lift guard rail to enter loading platform. Place load on platform and lower guard rail after exiting platform. Opposite side is now open for fork lift to pick up load.
Reduces accidental falls when loading and unloading to mezzanines, elevated levels and raised platforms.
Protects workers below platform by preventing objects from falling off edges - gate on open edge is always closed when accessed from platform.
Sturdy steel construction for durability and long service life.
Overhead Roller Safety Gates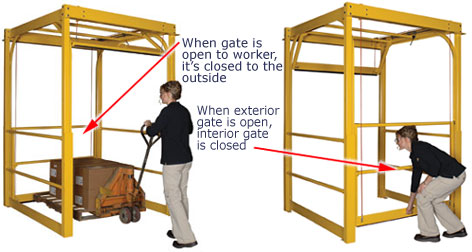 When outer gate is open, inner gate is closed - and vice-versa, protecting workers as pallets are being loaded or unloaded by forklifts or stackers
Make your mezzanine safer during loading & unloading operations
Can be installed into your existing guardrail structure with minor modifications
Easy installation and low maintenance - perfect for parts rooms, warehouses, distribution centers
Tri-Side Safety Gates
When edge gate is open, inside floor level gate closes to create a three-sided enclosure around the load zone and prevents workers from approaching the mezzanine edge
Once load has been placed or moved away, the inside gate can be lifted to open access to the load zone
As the inside gate opens, the edge gate lowers to close off the open edge
This gate is perfect when you must have a loading zone in a walkway or traffic pattern
Clearly demarcates loading zone and helps prevent workers from entering loading zone while the edge gate is open