Wire cages are designed for teardrop style pallet racks; rack security enclosures work with any industrial rack type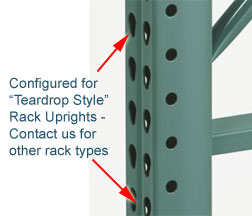 Rack security cages can be installed on any rack, but require different hardware. The Folding Guard and Wirecrafters cages/enclosures are configured for teardrop style racks. If your rack is another type, contact us for assistance.
Specification: Specify by matching the width of your rack beam to the listed enclosure width, then match the listed height and depth to that of your rack. If you don't see the size of your rack, contact us—we can easily size the system to fit any pallet rack.