Configure accumulation centers into any shape you want - they fit around nearly any workstation
Join centers with the Sump-to-Sump drain kit for a total sump capacity of 66 gallons; use clips to hold a series of centers together
Meets EPA and UFC requirements
Customizable to fit your application
You can custom configure these accumulation centers into any shape you want, in order to create the perfect liquid safety system for drums and barrels. Use clips to hold a series of centers together.
Example: Create this setup around a workstation or near fill areas. See drawing below...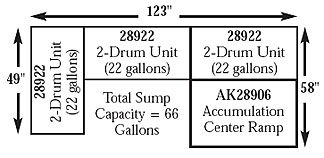 We can assist you in creating a fully customized system that meets your layout, safety, and productivity needs.