What can be automated?
Machines that replicate human activity efficiently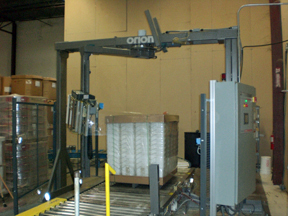 Automation simplifies processes where speed and accuracy are very important. It's hard for us human beings to repeatedly do the same things over and over, working at a consistent speed and keeping accuracy rates high. We lose focus, get tired, or have interruptions. That's where automating a process can increase productivity and free up workers to do more brain intensive activities where ideas and problem solving are important, all the while allowing machinery to do important processes they handle well for long hours with consistent results.
Robots are used to replace human effort in areas where work is repetitive, very fast, or dangerous. Lifting and loading heavy cases, repeatedly filling and pulling product at high speeds, packing product into cases and stretch wrapping are all areas where automation and robots effectively replace human labor, often increasing throughput and efficiency as well. Workers who used to do these back breaking chores are now able to move up to more challenging and satisfying positions, making money spent on man-hours increase in value to the company.