Systems
>
AS/RS Systems
>
AGVs (Automated Guided Vehicles)
Automated Guided Vehicles
AGVs offer a variety of flexible configurations for nearly any material handling function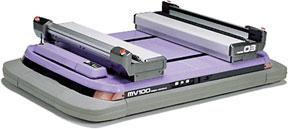 AGVs are automatically-programmed vehicles that drive to pre-planned points and perform pre-programmed functions.
Basic AGV classifications include Tow Type (for pulling carts & trailers), Unit load, which are the type listed in our performance reports above, which carry pallet or other container loads on decks, fork type that utilize a fork or mast, commercial/office type, and heavy carrier type for huge, heavy loads.
Functions include navigation/guidance, routing, traffic management, load transfer, vehicle management, and system management.
Guidance system may consist of a wire embedded in the floor, special tape, laser and optical system. Most effective where highly repetitive tasks are performed over extended distances. The variety in configurations of AGVs is endless, virtually any type of material handling equipment can be converted to an AGV.