Systems
>
AS/RS Systems
>
Mini Load
Mini-Load Automated Storage and Retrieval Systems
Automated storage and retrieval systems for totes, containers, or cartons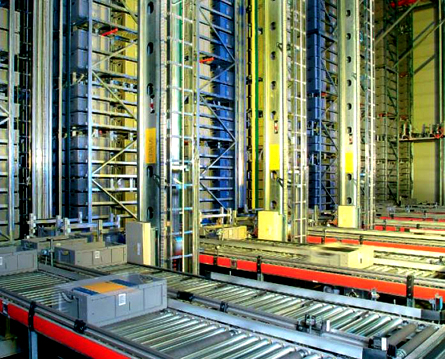 A mini-load automatic storage and retrieval system handles loads that are typically contained in small containers, cartons, or totes.

Why mini-load systems?
A mini-load system lets you store more material in less space, especially material in totes. It can also handle these totes with much more velocity than conventional static, manual methods. Despite that speed, Mini-load systems tend to run quieter than other methods. It's designed for totes, trays, cartons and small parts.
Smaller load units
Dynamic access
Short access times
Interlinking of systems
Mini-load AS/RS maximizes the cube, saving space while increasing throughput
Mini-load can offer a narrow footprint, as well, saving space horizontally. Our innovative logistics solutions are designed for the requirements of highly dynamic logistics processes and warehouse areas, are more than just a complement to the comprehensive pallet of classic system components.
RIGHT: Cartons stored in a mini load system.
Storage specifications - totes/bins
300 x 400 cm up to 600 cm x 400 cm
Up to a maximum of 110 lbs. (50 kg.)
Your application demands & data may affect these ratings
Storage specifications - cartons (cardboard packaging)
300 x 400 cm up to 600 cm x 400 cm
Depending on customer demands
Specifications - tray handling systems
600 x 400 mm
820 x 630 mm
1200 x 800 mm
Up to a maximum of 250kg
Storage can be single, double, or triple deep. Handling methods are configurable to your application, including extracting devices, telescopic load suspension devices, and special load suspension machinery. Warehouse dimensions include warehouse heights up to sixty feet and lengths up to 300 feet.
---

The Schäfer Quad Shuttle (SQS): Maximum dynamics in the most confined space
With the SQS, SSI SCHÄFER offers a flexible solution for highly dynamic areas (e.g. production buffers, order picking areas / zone order picking, goods to man, sorting and shipping buffers).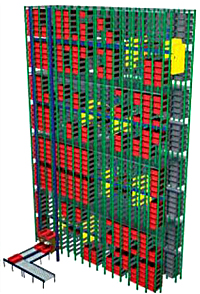 The automated interaction of conveyors, shuttles, and vertical conveyors enables the economic and space-saving storage. Pick-by-light provides for efficient, static, and dynamic order picking.
System advantages: extreme concentration of performance – optimal space utilization
Compared to the SRM, clearly higher throughput of the individual SQS due to the quadruple load suspension device
Several SQS per rack aisle – multiplication of the throughput with the same storage volume
Low approach dimensions due to compact design
Narrow spacing between bins due to novel extracting device
SQS can easily be replaced (e.g. by a spare unit)
Regular changing of aisles, possible for example with shuttle vehicle in the front zone