Falcon Jet Soars with WMS System
Inventory slotting revision, & warehouse redesign drives improvement for Dassault Falcon Jet
Falcon Jet needed to update its Completion Facility warehouse to handle growth, improve accuracy, reduce labor-intensity, and increase speed. The project centered on a new warehouse layout, implementation of a WMS (warehouse management) system, and horizontal carousels.
The Little Rock facility is the main completion center for all Falcon jets worldwide. The facility has virtually doubled in size after a three-year expansion project. The latest expansion added seven major buildings and nearly 200,000 square feet, growing the completion center to a total of 478,500 square feet.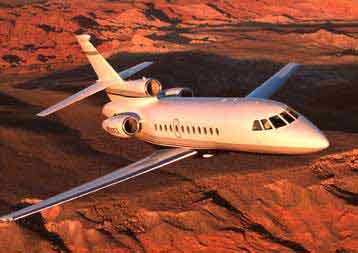 It is a facility unlike any other. Current production model Falcon jets are manufactured in France, and then flown in "green" condition to the completion center where optional avionics and a custom interior are installed. Finally, the exterior is custom painted.
The Little Rock center is perhaps the best-equipped facility of its kind in the world, outfitted with a mixture of technical and artistic ability designed to produce jets that can fly anywhere, anytime in complete luxury. Master artisans work in classic media to create gorgeous, custom interiors that can withstand the knocks and dings of frequent use. Meanwhile, technical colleagues devise cabin systems that unfailingly deliver sound, data, images, conditioned air and electrical power.
"I can't believe how beautiful the jets are," said Michael Wachowiak, Dassault Falcon's Manager of Warehouse Operations.
The Situation:
Understanding what Wachowiak and his staff deal with begins with understanding the complexity of Falcon Jet's business. The warehouse supplies material and components to the Production Department in ways that many warehouse operations could never fathom, since every jet is unique.
"This is such a complex facility," Wachowiak said. "Everything is intertwined, and everything touches other areas. It's hard for someone from the outside to understand what happens here." The diversity of the final product—completely custom jets, each distinct from the other—sends waves of complexity down the supply chain.

Many companies focus on producing what they produce by learning how to precisely produce one thing exactly the same way, every time. Falcon Jet can't do that—its end products are almost never the same. Production is as much art as science.
"A DC-9 is designed to carry a pre-ordained number of people from this airport to that airport—and that's all it does," Wachowiak explained. "Our jets are designed to go from a 130-degree tarmac in Nevada somewhere, fly around the world, then land in Siberia. A tremendous amount of engineering goes into our jets. What kind of field will you land on? A DC-9 knows exactly that, every time. Our airplanes don't—they'll go anywhere in the world, anytime."
A thousand variances on a thousand factors
Falcon Jet's customers are actively involved in the design of their jets. The cabin, avionics, paint, and accessories can be radically different from aircraft to aircraft. For the warehouse, that means the task of accurately, quickly, and efficiently supplying the production department with the right components at the right time is critical.
Wachowiak's warehouse must deliver a variety of critical components for simultaneous, varied completion projects in an accurate and timely manner. Further complicating the process, Falcon Jet carries between 25,000 to 30,000 sku's in active inventory. Some of these items are avionics equipment, clamps, hoses and other standard equipment. Others are exotic hardwood panels, computers, television screens, furniture, linens, crystal, and other items needed on corporate jets that have specific security and storage requirements.
Desired Solution
When Wachowiak decided to make changes in his operation, he targeted several areas:
Reduce labor intensity—especially in terms of paperwork at the warehouse level. "We started by realizing that we had an extremely labor-intensive, manual process of picking parts, receiving parts, and stocking," Wachowiak said.
"It took a large number of people to do this because there was so much tribal knowledge involved—if a requirement was "x," you knew that you had to do something else in order to get to 'x.'"
Overabundant paperwork was a problem: In Falcon Jet's system, a production document was used to pick orders. The documents were generated in Excel and printed for the warehouse. As large as a good-sized paperback novel, the production documents could be 2" thick with much of the text dedicated to production, inspection, quality, and safety procedures that had nothing to do with picking.
"80% to 90% of the document was totally irrelevant to the warehouse operations," Wachowiak said. "It had no bearing on our mission of providing parts. It had to do with inspection, to record other data, to give instructions to production to apply the parts to the aircraft. It was an assembly work order, not a picking list."
Pickers had to read the document and find needed parts by deciphering production instructions. "We would think, "there's a part, oh, here's a part." And highlight it," said Wachowiak. "Then we'd go to a computer to find where the part was inventoried, then we would finally pick it."
A warehouse worker could spend hours culling through a large production document and looking up part locations on a particular project without pulling a single part.
"I just wanted to know what I had to supply to production," Wachowiak said. "What part number do they want? How many do they want? When do they want it? Pretty simple, but that's how it evolved. We didn't want the excess information."
Reduce errors in the picking process: Due to the way orders were received, Wachowiak knew his operation suffered from needlessly high error rates. "There were obviously errors being made in our picking process due to the way we received information," he said.
Improve inventory accuracy: "Inventory accuracy was good," Said Wachowiak. "We maintained a rating around 98%. But we expended a lot of energy to keep it there."
Reduce cycle time without increasing headcount: The manual system, combined with Falcon Jet's overall business complexity, created problems in the warehouse that lengthened picking times. "We're trying to take days out of the cycle right now," Wachowiak said. "What we wanted to do based on the growth rate we anticipated was to pull the parts and receive the parts—all the warehousing activities—give credits, support our customers with spare parts shipments.
"We didn't want to pack more bodies in here to get that done. We were looking for a way to streamline our process."
The Outcome:
Falcon Jet's solution revolves around a new Warehouse Management System implementation, specified through the consulting efforts of Cisco-Eagle's consultants.
"I hadn't dealt with consultants that much," said Wachowiak. "But they became partners with us. They got to know our business. They were our advocates, and helped us make sure that timelines were set and met for the project. We knew what we were supposed to do and when it was supposed to be completed. They helped us identify internal problems and take corrective action, or at least a plan to overcome our problems."
The software selection process can be daunting for companies who have never dealt with the breadth and depth of WMS solutions on the market. Wachowiak understood that there were hundreds of software packages available, and that a professional evaluation of his needs had to be done to determine the correct solution.
Under the new system, Falcon Jet's warehouse workers no longer sort through extremely long production documents to find the parts they need to pick. "When orders are released, they go to our RF guns," Wachowiak said. "The picker then starts picking parts. There is no looking to this or that information, or picking through a big document. You just have to pick parts."
This has driven down the time it takes to pick an order and created labor savings in the process. Falcon Jet is faster and more efficient.
"We have portable printers that go along with the RF gun. Those printers provide all the information. We pick a part, put it in a bag, slap a label on it, and we're done. Move to the next one," said Wachowiak. "We've had a dramatic decrease in the amount of time we have to spend on clerical activities."
The system also created more management tools. "We are now date-driven by due date, by priority. There is a lot more discipline now than before. We're able to manage our activities better than we were previously. There is more easily obtainable tracking information and historical data. We can get our hands on it," Wachowiak said. "We also have a method for hot picks, for if a part fails, or if one gets lost."
Once parts are pulled, they are staged in lockers for the production department. The parts are pulled in advance of when the production floor needs them. The warehouse has to be ready for production to work out of sequence on a project, or a number of projects.
Prior to the WMS and carousels, parts were stored in the warehouse alphanumerically. Families of parts were stored in the same general area—all hoses in one place, all clamps in another—classified by the kind of component they were. "That was good in its time," said Wachowiak, "but we had parts that were being requested all the time stored in inaccessible locations."
The warehouse layout has changed so that parts are stored primarily by velocity. The most frequently used items are the most readily available, reducing the amount of time pickers spend on them. "We're moving inventory based on velocity," Wachowiak said. Frequency of use determines placement.
Wachowiak reports that Falcon Jet's picking accuracy has improved. "If a person doesn't have to look up a location or guess what part it is, and have to verify it, they're more accurate," he said. "There are fewer opportunities for a mistake."
"It's a very unique business," Wachowiak said, as he watched technicians work on a gleaming corporate jet. "We have the ability to react quicker and better now than we did before. We have more control over the situation."