A Safer Work Platform Solution for Tinker Air Force Base
How can you safely work on a heavy, bulky, difficult jet engine from simultaneous multiple directions?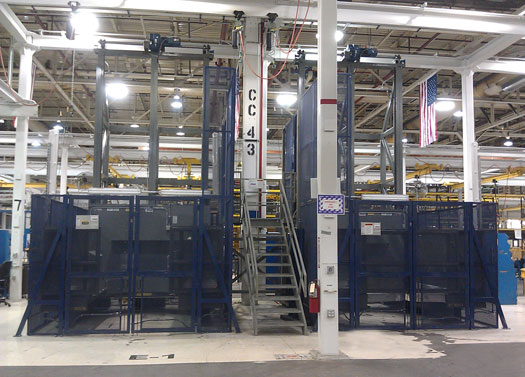 Tinker Air Force Base's PMXS Production Squadron, located in Oklahoma City, Oklahoma, had been working on its primary mission: repair and service of heavy, difficult-to-handle TF-33 jet engines, for years in the same work cell setup. A scissor lift had been used for this difficult task, moving technicians, tools, parts and other components vertically, moving up and down the length of the engine that was placed in an upright position.
The squadron, located at the sprawling air force base in Oklahoma City, Oklahoma, works on TF33 jet engines, which are bulky, very heavy, and difficult to handle.
The concerns were all about safety—and the ergonomics—of working on such a large engine. The safety devices as installed may not have been adequate to protect workers and prevent injuries, and this needed to change. The work required an open area, a work platform, and access to jet engines from multiple positions and directions.
The base contacted Cisco-Eagle to find a solution.
"They requested we update and improve the safety features on their existing equipment while maintaining the existing functionality and ease of use they were accustomed to," said Joel Pason, Cisco-Eagle's Senior Project Manager. "We gathered information and contacted AutoQuip to come up with design options to meet the application."
A need for multi-direction access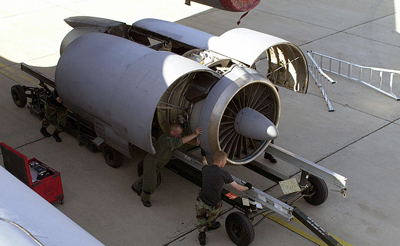 Standard solutions were insufficient to meet the squadron's needs. The facility layout dictated that the lift be self-supporting. It could not use building structural ties. And because an overhead crane was installed above the workstations, there could be no obstructions above the lift. The new platform also had to allow multi-directional access to the TF33 engines. The site could support just 1,000 pounds per square foot.
At 142" long, 54" in diameter and weights in excess of 4,000 pounds, TF33 engines present unique handling and safety problems. Moving, handling, and working around them is intrinsically difficult and can be unsafe. Moving them is an issue, so the logical way to work is to securely mount them and allow workers to move where needed for service and repairs.
The solution
The solution was a customized system with an oval-shaped platform, with hinged openings for loading or removing engines from the workspace.
"The initial concept was a four-post lift, but we couldn't do that due to the overhead cranes," explained Pason. "The final design uses a self-supported, cantilevered lift. The combination of that size cantilever and having to be freestanding created some unique designs in the base of the unit.
Because the customized platform has an oval cut out of it, workers can move to multiple heights and multiple places around the engine to execute repair work without having to reposition themselves each time. This gave Tinker not only a safer operation, but the freedom of movement required for its technicians to properly handle and service the engines.
Cisco-Eagle's partner, Autoquip, built a self-supporting, cantilevered lift and platform. Other configurations, such as a 4-post freight lift and more standard scissor work platform were considered in the design process, but these options couldn't meet the challenging specifications for the project. Lift Specifications for this Unique Application: Model: FLMC-4 (Mechanical Cantilever Freighlift) Travel: 156" Platform: 126" x 144" Actuation: Mechanical.
The new work platforms provide workers with a safe work environment and improved, easy access.
"We satisfied their needs by creating a design that gives operators freedom to complete their jobs faster and more efficiently, but increased safety," Pason said.