Hand truck handle Types - which works for you?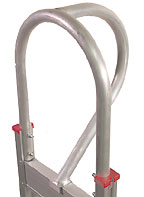 D-Loop Handle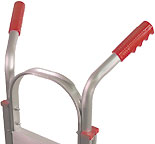 Double Grip Handle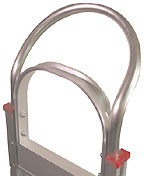 Continuous Loop Handle
Wheel Selection
Full pneumatic wheels offer excellent rollability, even over rough surfaces, grass, and gravel. Quiet, easy operation and terrific maneuverability on rough flooring, parking lots, etc.
Semi-Pneumatic wheel is a very popular shock-absorbing, rupture proof hand truck wheel that requires no air pressure.
Mold-On wheels are an economical wheel choice. This is a good wheel for general warehouse duty, back rooms, retail, and other places where the floor surface is generally flat, smooth, and clean.
Foam filled wheels are completely maintenance free and puncture-proof. They have excellent traction on all types of wet floor conditions and rollability similar to pneumatic wheels.