When Should You Expand, Renovate, or Refurbish your Facility?
The signs are right in front of you. How can you read them, and what do you do next?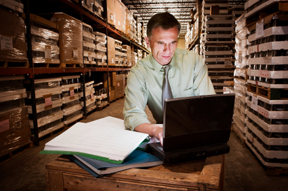 Determining if your facility can sustain your current and future requirements
The basics are all about footprint size, but even that is complicated by methods that can dramatically shrink the amount of space it takes to execute certain processes. Can your current building sustain new electrical requirements? Is it up to spec architecturally? If you'll need new employees will your infrastructure (break rooms, bathrooms, locker rooms, walkways) be adequate to support a significant expansion?
According to a "Converting Magazine" article, three factors are important for you to consider:
Overcrowding. When plant personnel constantly have to maneuver their way around each other in the course of their daily activities, this is the most obvious sign that you are due for a move or an expansion. Overcrowding may be causing you to spend extra time shifting equipment to handle incoming or outgoing materials. Also, it sends a negative message to your visiting customers as well.
Revenue loss. When a revenue dip is the result of your employees making do with, or working around, inefficient processes and thus squandering valuable production time, you know it's time to take a good hard look at your current facility. Often common, manufacturers are more concerned with buying equipment that will theoretically enhance their productivity than with buying space - space which can also enhance productivity if it is parceled out properly.
Additional loads are a no-go. If the current structural and engineering systems are unable to handle any more, then your facility is constraining the growth of your business. In other words, you can no longer install machinery because your electrical system can't handle it. Or, you can't hire additional personnel because the present plan lacks employee facilities.
Expansion vs. relocation
Both have their place, and both have their pitfalls.
After determining that your plant can't sustain your growing business, you need to determine whether it's better to add to your current facility or you need to move. Ask yourself whether your current work space can be home for the next five or 10 years. Can the building you operate in now grow with your operation? Even with space saving techniques, can it withstand 5, 10, even 20 years of growth? Whether you choose to retool your facility now or move to something that gives you more elbow room, the decision must be a long-term one that focuses on your business, needs, and market.
Eight common and costly mistakes made in relocation, expansion, or renovations
Passing up critical review of existing plant layout, current and anticipated needs as a part of the planning process. Without a critical review, the limitations of existing plant layout and of less than optimal production methods are likely to be repeated, and the chance to achieve higher levels of efficiency and, thus, greater profitability are likely to be lost. A little bit of evaluation and planning up-front goes a long way, both in the construction process and, later, in the plant's operating efficiency.

Failure to take full advantage of the construction marketplace. Companies frequently fail to obtain best value for dollars spent on construction, selection of contractors, or building schedules, resulting in larger capital outlay than desired.

Starting an upgrade of an existing facility, a renovation or an expansion of the building now occupied without complete and accurate drawings. You're likely to incur additional cost during construction and expensive delays in completion.

Proceeding without sufficient input from managers and supervisors. Alternatives that often lead to better plant efficiencies are often overlooked, and opportunities are missed for buy-in from employees and management.

Underestimating the importance of how the building speaks to employees and customers. A negative impression for employees and customers alike is a considerable marketing disadvantage.

Failure to take advantage of contemporary construction methods and materials. Construction costs are increased and schedules lengthened. Plant maintenance costs are greater than need be - and often become a recurring cost.

Inflexible design that limits the ability to take full advantage of new equipment and changes in technology. May result in early obsolescence, material handling nightmares, and less than optimal output by production equipment purchased in the future.

Being your own project manager. Takes you away from the job you're most effective at, gives you a job you do less well and ties you up for longer than anticipated, causing your primary job responsibilities to suffer.
Portions written by Hal Ettinger, used with permission.