Converting Mill Equipment Integration is Key to Success
Conveyors, Palletizers, Shrink-Wrappers, and Robotic Palletizer Integration
Ask Our Experts
Cisco-Eagle understands the role of Material Handling Equipment in Paper and Pulp Converting Operations.
When cases of products come from just about anywhere, anytime, at any speed, it is essential that material handling equipment and packaging equipment work together. That integration requires communication, and not just at the equipment level.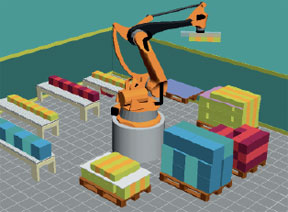 It's true that each of the conveyors, wrappers, case packers, tapers and palletizers require product to be delivered to them in a specific manner. To achieve a true System Integration as those products move so too must the information about any particular product. The Material Handling System Control must maintain continuous contact with Main System Control to make it possible for each product to be routed, stored, and accumulated to reach its proper unitized load destination. The journey begins at the converting lines where information is gathered about what products are being sent and ends in the warehouse with palletized loads, properly labeled for lift truck routing.
This understanding has allowed Cisco-Eagle to assist our clients to Integrate Systems to meet those demands.
It all starts with Design
Cisco-Eagle is not a manufacturer: we design systems based on your requirements, not on what we build. That way, you get options on the kinds of material handling and packaging equipment to best serve your application.
We specialize at blending technologies and equipment to create the best solution for you.