Warehousing & Distribution Design
Warehousing and fulfillment center: we help you make it better
Ask Our Experts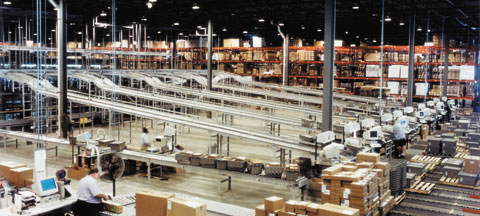 Companies who want to increase profits will find few places that can yield more in terms of cost savings and customer satisfaction than their distribution center, order fulfillment systems, shipping areas, or warehouses.
Vast experience in distribution operations
Proper distribution center operations hinge on physical layout & material flow, the right equipment, intelligent processes, safe & productive employees, and accurate information.
Making these facilities dynamic and efficient should be a key business objective for any organization that depends on their DC as a way to satisfy customers.
The range of solutions goes beyond what most manufacturers can offer within the narrow confines of their product lines. That's why an integrator like Cisco-Eagle can play such an important and vital role in the creation of better distribution systems.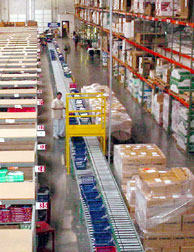 Cisco-Eagle is focused on the material flow and process issues that most distribution centers face:
Product Flow must be constant and controllable: with consulting services, material handling systems integration, and decades of experience, we provide you with the best possible plan
Inaccurate, slow picking processes cannot be tolerated: What creates the best flow of products through the system? We believe that the solution is different in every case. Is it picked quickly? Accurately? At the right time? There are solutions that work for every situation. It's a matter of selecting the right one.
Space must be utilized to its fullest: Understanding how space, equipment, and processes interact with each other can give you more SKU's in the same area...plus the ability to easily replenish and pick them
Costs must be contained: We understand that material handling is a value-add, not a core mission for you. All the same, with well planned materials handling systems, dollars saved in material handling processes translate directly to your bottom line
We help distribution operations who find themselves:
Coping with the consequences of an

Inefficient Warehouse Design.

Cisco-Eagle provides warehousing and storage solutions that increase operational efficiency.
Suffering from

Limited Space Constraints.

Significant space gains are made by using the right storage equipment and the right layout.
Hurt by

Poor Inventory Accuracy.

The right storage solution dramatically increases inventory accuracy.
Hampered by

Poor Order Picking Productivity.

The ability to quickly and accurately pick orders is a key to distribution success.
With too many

Picking Errors.

Errors begin with process, layout, and equipment and end with people. Errors are systematic, and your system should actively reduce them.
Committing too many

Shipping Errors.

Minimizing erroneous shipments is vital in any business, but especially for distributors. Shipping errors lead to returns, lost hours, compromised product, and unhappy customers. Shipping systems that regulate errors are the surest way to reduce them.
Burdened by

Excessive Labor Costs.

More efficient use of space, time, and processes can reduce the amount of labor required.
Call us today for immediate assistance optimizing your warehouse or distribution center