ATC Logistics & Electronics Increases Capacity, Accuracy in the Face of Growing Customer Demand
"The technology we use is superior"
The client:
ATC Logistics & Electronics, Fort Worth, Texas
ATC Logistics specializes in forward logistics, returns, repair, and light remanufacturing of electronics for a variety of Fortune 100 customers. The company services a variety of electronics ranging from cell phones to GPS systems at its Fort Worth, Texas distribution facility.
The company is dedicated to excellence in a competitive market. "We know where all products are at all times," said Senior Engineer Chris Miller. "What we say we're going to do, we do. We far exceed what we're contractually obligated to do. We add a tremendous amount of value across the process that allows the customer to minimize inventory levels as well as resell or redistribute phones."
The situation:
ATC provides dealer returns and undeliverable phones services for major cell phone manufacturers. The company has achieved exceptional quality levels and a high annual growth rate over the last four years. Due to that growth, ATC needed to expand, particularly within its cell phone returns operation.
Objectives for the new material handling system: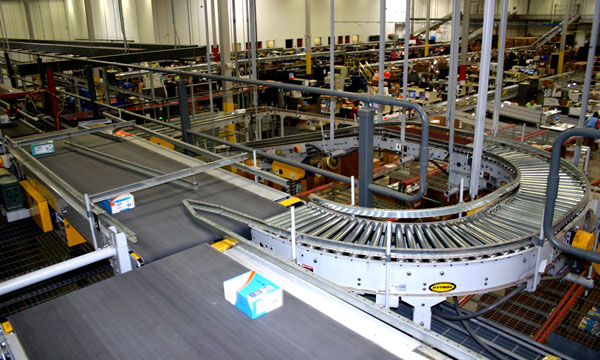 The company wanted increased capacity; enough to process tens of thousands of phones every day, as demand warranted. "We needed to be able to receive, process, scan, repair, and ship more phones, faster," said Miller.
ATC needed to merge its WMS system with controls to increase the ability to sort higher volumes. "Some of the WMS interfaces and transfers became requirements from our operations group, and the ability to sort higher volumes became a priority. That's what drove the design and layout," said Miller.
Another issue the company faced was a tight implementation deadline and the need to stay operational during the transition to the new facility. It had to happen quickly and without downtime. "We had only eight weeks to move two of our conveyor lines from the older building," commented Miller.
Varied carton sizes had to be conveyed. As manufacturers introduced new phone models, the system had to accept new cartons and packaging had to be acceptable to the system. Because it had to support phone packaging that didn't exist when the system was designed, its scanners, controls, accumulation, and sortation systems needed to be flexible. "We wanted to make it flexible enough to receive returns from multiple different channels," Miller said. "We didn't want to shoehorn ourselves into too specific of a line."
The system had to correctly feed phones into ATC's repair centers without much manual interference. The company wanted more precise traceability. It needed to know where any particular item was in the system at any particular time. "We track all inventory down to the serial number," said Miller.
The new system in detail: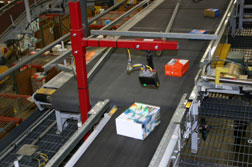 The new facility integrates the best parts of ATC's previous system into a new operation with heightened capacity, increased throughput, and precise levels of control and tracking.
Returned phones are received into the system in cartons, which are sent into a box cutter machine that automatically opens shipping cartons. Once opened, the cartons are conveyed up an incline to the middle level of a three-tier conveyor line, and then to workstations for initial processing. The lower line is a takeaway line, and the upper level is for discarded cartons.
"We have an operator interface that assigns credit to the returning party and receives it into our inventory within the WMS (warehouse management system)," said Miller.
Operators take boxes from the infeed conveyor and place them on workstations, where returns paperwork is scanned, then labeled either (1) Return to manufacturer, (2) Repair, or (3) Scrap.
ATC Operators discard shipping cartons into an overhead trash conveyor and place phones (now in retail boxes) onto the takeaway conveyor line. The phones are conveyed to ATC's sortation mezzanine, where they are scanned for their final destination. "We use conveyors tied in with automated systems and scanners to divert phones to one of thirteen different locations, based on what work that phone needs to have done," Miller said. "There are two repair cells. Seventy percent of what we receive goes to them."
As it assigns phones to the correct repair cell, the system scans and adds them to the repair inventory while simultaneously removing them from general inventory. Once phones reach a repair cell, they are diagnosed and either repaired or marked as unrepairable. Repaired phones are conveyed up an incline back atop the mezzanine. They are scanned and diverted by make and model to palletized storage or other destinations. Again, they are sorted automatically on the mezzanine and automatically delivered to the correct area.
A tight timeline met
"It was an extremely tight timeline choreographed with the move from our old building, and we didn't miss a beat," Miller said. "We had the first two lines completely built out in three or four weeks. We were able to move our operation to those lines, and then we were able to move some existing conveyor here to create a third line. We consolidated two existing buildings into this one. The choreography and Cisco-Eagle's ability to work with our very aggressive timeline was impressive."
During the project there were midstream changes. "Those additions didn't throw off the timeline," said Miller.
Capacity, traceability gained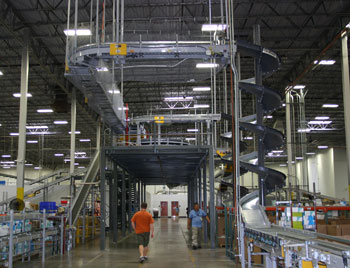 ATC got the additional capacity it needed. "We would never be able to handle the capacity that we can now in our old facility," said Miller. "We were able to remove labor from the process by using a conveyor system and its transfer and sortation features. It also provides order to the layout. It gives us traceability.
"We know where everything is. The system, as far as product moving and traceability, has been terrific."
The operation depends on being able to understand where a phone is at any given point, so traceability was important. "The system creates inventory accountability," Miller elaborated. "Now, I can prove that a functional area received something and that it made it to an area and that it should be there. If it passed a particular scanner, it went there."
ATC is able to leverage its repair capabilities more effectively than ever. "We've significantly increased our repair volume," Miller noted. "The system allows us to sort to repair cells. It's eliminated manual cart transfers. It helped us track any lost inventory."
Organizational & ergonomic improvements
"We did things to increase safety and ergonomics," said Miller. "The automated box cutters reduce injuries and increase speed. It lets us keep a person at a station instead of walking around. We have an air conditioned facility, high volume fans, and ergonomic mats."
Organization and housekeeping were improved. "Just look at our ability to remove corrugated box trash," Miller commented. "We're removing 35 tons of corrugate boxes a week with the system. Think about trying to do that without conveyance -- it would be a total mess. We had removed it by gondola and hand in the past. That would kill us today if we had to remove it at our current volume." Besides helping ATC deal with its corrugate, the corrugate conveyor also reduces repetitive motion injuries.
ATC opened its layout and floor space. "The mezzanine lets us transfer product from one part of the warehouse to another and still allow for equipment and people to transfer without having to crossover ladders and bridges," said Miller. "It keeps aisles open."
The system has been dependable despite being mechanically more complex. "It's been maintenance-free," said Miller. "The conveyor has been consistent and reliable. Mechanically it's been very sound."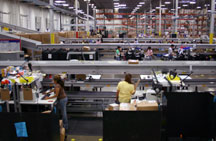 Within the state-of-the-art system, ATC found ways to save money. For instance, instead of manufactured workstations, it installed custom-welded benches. "The value on the custom welded workstations was very good," Miller said. "We probably saved $400 to $500 per station, with more than 120 stations. And they are rock solid."
A competitive advantage for ATC and its customers
ATC's material handling system gives it a competitive advantage it leverages in marketing efforts. While its competitors sort manually and deploy hundreds of employees shoving carts, ATC utilizes state-of-the-art automation to boost throughput, inventory control, and responsiveness to customer needs. This embodies the company's commitment to people, process, and technology. "We show the system to potential new customers constantly," said Miller. "It's a marketing tool that helps us showcase our technological advantage over competitors."
People, process and technology
It all comes down to ATC's commitment to compete by having superior people, processes, and technology.
"Our people are superior," said Miller. "The technology we use, from the conveyance system through WMS through IT, is superior. Then, the processes we use, being ISO certified, help us keep our edge. Incorporating all of these things helps us stay ahead."