Salon Support Company Slashes Labor 20%, Costs 43%, Enhances Productivity
A whopping 44% increase in sales per dollar of payroll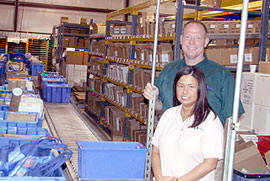 Imagine 47% growth annually for 10 years - a problem everyone wants, right? With that kind of explosive growth came challenges for Salon Support, a Fort Worth, Texas, tanning supplies distributor.
The company's position in the supply chain is a giant step upstream from where it ever thought it would be.
"We never meant to be in the distribution business", said CEO Tony Ford. "We defined ourselves by what we could do for the customer, in an industry that we felt was under-served by distributors." Today, Salon Support is the nation's largest family-owned provider of tanning products and services.
The consequences of growth:
As it grew, space became an issue for Salon Support, impacting inventory and order processing efficiency. The addition of temporary storage containers was a short term solution.
Approximately 200 of the company's 2,000-plus SKU's represented close to 80% of its business. Because space became more and more cramped, continued growth slowed access to these fast movers, and impeded responsiveness to new product sales, ideas, and marketing initiatives.
"We engaged a logistics company who reorganized our warehouse," Ford said. The process yielded little in the way of measurable results. "With our growth, we knew we could not get a new building up fast enough to support our customer's expectations. Our growth was explosive. We felt we were holding inventory we may not need. Many items which were not touched for weeks were restricting access to those we picked regularly."
Something had to give. Salon Support needed supply chain experience to address these issues. It selected CEI Logistics of Dallas, Texas, to create a solution that would allow it to grow and still maintain an efficient operation.
The solution:
Ford started by helping CEI Logistics identify and understand his business objectives. Understanding Salon Support's business processes, such as how an order or product made its way through the fulfillment process and out the door, was critical.
Interviews with employees rounded out the picture. Executing the current season's business volume was an urgent issue. Longer term concerns included anticipating and dealing with market projections, managing fulfillment processes and costs, and working with unique product buying profiles.
Said CEI Logistics' Joe Jackson, "After data capture and interviews, we overlaid the data with their business objectives, and applied growth projections. This data set was used to develop a fulfillment model based on best practices and experience. Our layout and hardware solution was developed from this model of their business."
Key elements of the solution included:
A new layout minimizing walking and search time
Re-slotting of sku's based upon volumetrics: size, velocity, special handling needs
Creation of a work area for kitting
Dropping select brands and discounting to sell slow movers
The benefits:
Improvements by the numbers at the Salon Support distribution center included:
A 19% labor reduction
A 31% reduction in total hours
A 43% cost reduction
Distribution factor: a 44% increase in sales per dollar of payroll
Almost 75% of Salon Support's volume occurs in five months, but with its new system, the need for overtime and temporary employees was reduced during the busy summer months.
Most providers rely solely upon limited pre-packaging combinations provided by the manufacturer, but Salon Support's in-house kitting area allows it to do far more in promotional areas. The company isn't limited to offering what everyone else offers because it can kit new combinations of products efficiently. Salon can query customers for "what they want" in packets, and serve them exactly that, further differentiating Salon Support.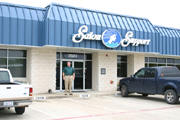 During its busy months, the new system has given Salon Support more capacity when it most needs it. The facility layout redesign has provided more efficient order processing and space, allowing for unimpeded movement.
Ford laughs, "The guy who designed this before was lost and should have been fired, but somehow kept his job - me!"
As for choosing a solutions provider, Ford said, "The CEI Logistics engagement differed from others. They did not push a technology and gained the trust of our employee-teams, communicated regularly with leadership, were intuitive, not intrusive, and remained on site for training and follow up."