American Greetings Simplifies Maintenance, Slashes Energy Consumption and Reduces Noise Levels with e24i Conveyors
The company increases efficiency by replacing older conveyors with modern, more efficient systems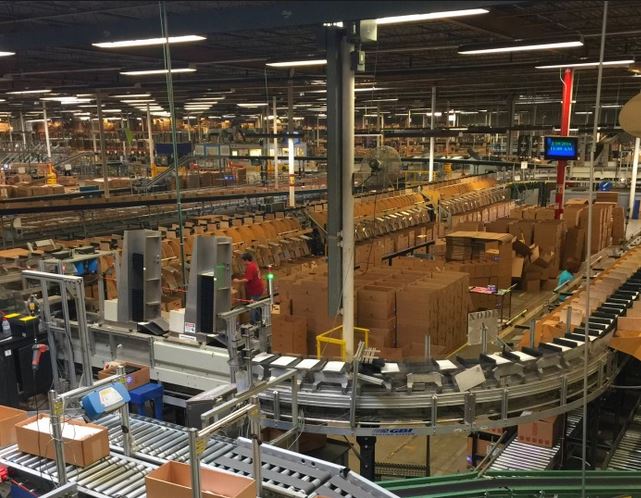 The client
American Greetings Corporation is the world's largest greetings card company. Its stated mission: "We live in a time where rudeness is expected and kindness is a luxury. But we believe in something better. American Greetings works every single day to make the world a more thoughtful and caring place. We create expressions of happiness, laughter and love to help make everyday connections a little more meaningful." The company has been executing this mission for more than a century.
American Greetings produces a variety of the world's best greeting card lines, including its self-named brand, Carlton Cards, Gibson, Recycled Paper Greetings, Just For You, Tender Thoughts, Papyrus, and other paper product offerings that include DesignWare party goods and American Greetings and Plus Mark gift-wrap, and boxed cards. In addition to its product lines, American Greetings also creates and licenses popular character brands through the AG Properties group. Its products are found in retail outlets worldwide.
The situation
Sixty years ago, American Greetings built its Osceola, Arkansas facility, which manufactures its offerings. The building is gigantic, billed as "the largest one floored building in the United States." Over the years, it has executed many material handling projects, resulting in a facility the size of 57 football fields with miles of conveyors of various types, models, and manufacturers. This mixture of systems began to test the company's maintenance capabilities, as a variety of the older conveyors were in constant need of repair and service.
The plant runs constantly: 24 hours a day, 5 to 6 days a week, for 10-11 months a year, making it imperative to reduce energy and maintenance costs.
In 2015, the company started the process of facility enhancement, with the goal of reducing maintenance costs and unifying the operation. It contacted Cisco-Eagle and Hytrol Conveyors in this effort.
But ergonomics and plant safety also entered that equation. That many conveyors, particularly older models, can become a noise hazard. According to the National Institute for Occupational Safety and Health (NIOSH), occupational hearing loss is one of the most common work-related illnesses in the United States. Approximately 22 million U.S. workers are exposed to hazardous noise levels at work; an estimated $242 million is spent annually on worker's compensation for hearing loss disability. NIOSH recommends removing hazardous noise from the workplace whenever possible and using hearing protectors in those situations where dangerous noise exposures have not yet been controlled or eliminated.
The solution
American Greetings turned to Cisco-Eagle account executive Rodney Freeman for assistance. "One of the big challenges for American Greetings was finding new ways to keep an old system alive," Freeman said. "Spare parts models 30-plus years old are often hard to find."
Dealing with these maintenance issues was the daily task of maintenance supervisor Gerald Davis. Davis crafted creative solutions to keep things operational but it was a difficult task, given the scale of the facility and its operational demands.
Freeman presented a solution to address all of American Greetings' concerns – Hytrol's E24i 24-volt power roller systems.
The American Greetings team, including former American Greetings' engineer Alan Keith and Gerald Davis made the trip to Hytrol's Technology Center in Jonesboro, Arkansas to see the E24i in action.
Boyce Bonham, Hytrol's Director of Integrated Systems and Controls, stressed that maintenance costs (via spare parts and scheduled maintenance) made the E24i an obvious solution, but that was only the start. E24i also reduces energy consumption and noise levels, both serious concerns given the quantity of conveyors in the Osceola facility. "The first line was a sort of test/evaluation and that after installing the second line," Bonham said. "Hytrol is now American Greetings' conveyor of choice. Reducing stocked maintenance parts and eliminating the scheduled maintenance was crucial in their decision to install the Hytrol system. While it wasn't the largest concern at the time, an important factor was a reduction of noise in the plant. They were impressed with the much quieter system, and have noticed energy savings with that system as well. They're continuing to replace their other lines with newer equipment."
Ira Koonce, Engineering Project Manager for American Greetings said, "We were using accumulation roller conveyor that used air bladders and tension rollers for carton controls. The conveyor was over 30 years old. We were able to remove a sawtooth merge station that was no longer needed. American Greetings had a working relationship with Cisco-Eagle from previous projects from several years prior, and they reestablished that relationship and seem more customer focused."
With conveyor maintenance issues reduced for, American Greetings' maintenance team was able to focus their attention to other issues, according to Freeman.
Koonce added, "This conveyor technology provides several benefits including power savings, noise reduction, and no compressed air requirements. It also seems to provide an easier means of resolving motor breakdowns when they will occur - and that hasn't happened yet."
Companies like American Greetings often find that new automation solutions which replace decade old technologies provide dramatically lower decibel levels. Koonce said, "We checked the decibel level on the previous system and it did not reach the safety threshold. The sound difference is noticeable but not a safety issue. Any type of reduction helps relieve the system."
See more: The total cost of conveyor ownership