What are the costs of a destroyed or damaged dock or overhead door?
Prevent downtime and expensive door or track repairs
Highly visible safety yellow guard helps prevent impacts
Built from 6-inch schedule-40 steel post and 4-inch schedule-40 steel rail for toughness and durability
Steel posts & rail sleeved in high-density polyethylene thermoplastic tubes
This outer shell is 1/4" thick and will not crack, chip, or split like PVC and can withstand temperatures of -40 degrees to 210 degrees (F)
Can be configured to nearly any size, height, or width. Contact us today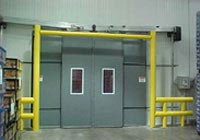 Repairing dock doors and guides is costly - and highly inconvenient
A disabled door can disrupt any operation - at the freezer area, at high speed doors, at the docks. Protect expensive doors with solid steel dock door guard "goalposts". High-visibility yellow finish helps drivers see the door frame better, while solid steel cores protect in the event of a collision with raised forks or a sideswipe due to sharp turns.
Doors are often left unprotected while less vital equipment is guarded. It only takes one crash to understand the problems when an important overhead door is out of action.