TA-50 Unit Storage Cage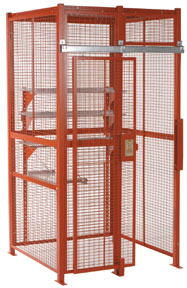 Higher capacity storage for various military storage applications.
Units typically include shelving and other storage media, customized to the application.
Cages are installed into rows, creating high-density storage in smaller amounts of space.
Individual gear lockers typically used to store:
Soldiers can securely store TA-50 individual equipment items such as Kevlar helmets, wet weather gear, rucksacks, entrenching tools, web gear, shelter half/bedrolls, MOPP suit, gas masks, and other equipment.
Other personal items, tools, and clothing that need to be secured in a barracks, motor pools, or other facilities.
Most armories have storage lockers for individuals, but this allows expanded storage and defined security.
Excellent for barracks buildings and other facilities.
Rock solid and highly secure storage for barracks and other military facilities
We can help you design and implement secure storage units with shelving integrated into the lockers for your exact application, making specification easy and painless. Just tell us what you need. Twenty standard sized panel sizes available. You can specify a single unit or an entire row of them to fit into virtually any facility. Panels may be ordered with any mesh, expanded metal, sheet metal, or clear Lexan. Contact us for help on your next project.