Wire Partitions & Cages are excellent for industrial, commercial and facility security
Utilize wire mesh cages and partitions for security areas, to prevent pilferage, to enclose work areas, and to create customized, accessible security areas in warehouses, manufacturing facilities, and distribution centers. Great for stock rooms and other secure locations.
Selecting your security cage: If you do not see the size, shape, or type needed on this website - no worries. Most cages are configured to exact specifications that do not necessarily meet standardized sizes. We can create exactly the size and shape partition you need. Submit an inquiry: 1-wall, 2-wall, 3-wall, 4-wall, or call 888-877-3861 toll-free for fast assistance.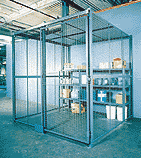 Each model listed includes posts, panels, gate with cylinder lock, assembly hardware, and floor anchors.
Installation is faster than competitive wire enclosures; this design utilizes fewer total parts, making installation quicker and less complex.
Wire mesh wall and ceiling panels are interchangeable and totally modular, which simplifies relocation and layout changes.