Sheet Metal Handling Alternatives:
Vertical sheet racks are good for cart access. Often manually loaded and unloaded, and are easy to set up.
Horizontal racks offer good storage but require manual handling to move individual sheets into a position where lift equipment can take over. Capacity is 2,000 pounds or less.
Roll-out metal sheet racks make sheet metal much easier to handle with cranes, hoists, and forklifts and can handle very heavy loads in a tight space. Standard capacities of 5,000 pounds per shelf can be expanded to 10,000 pounds in certain sizes and configurations.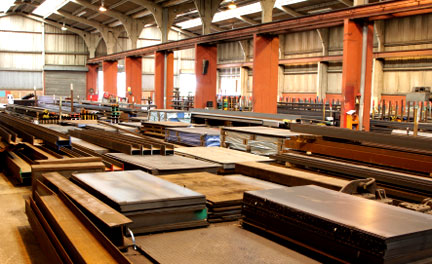 Roll-out shelving works well for lighter weight (capacities of up to 1,500 pounds) sheet stock and allow for crane and forklift access.
Cantilever racks are better suited for bar stock, pipe, and lightweight beams since they generally don't have the arm length to handle standard sheet stock sizes. Standard rack can also be used but is often hard to fit standard sheet stock sizes.
Floor storage is also an option. Stacking sheet stock on the floor becomes cumbersome as more stock is stored, size varieties increase and operations become more complex. Taking your sheet storage vertical means saving floor space, enhancing ease of access both manually and mechanically, and creating a more ergonomic handling process.