Paper & Pulp Converting Applications
Vast experience with paper and pulp processing, manufacturing, and distribution material handling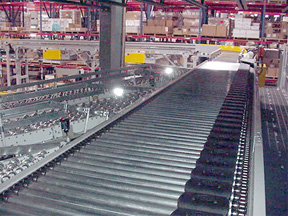 Cisco-Eagle specializes in material handling solutions for the paper and pulp converting industry. We have executed projects at locations nationwide that created greater efficiency, slashed costs, reduced errors, and increased throughput.
The issues are numerous. The logistics of Sorting, Accumulating, and Scheduling multiple SKU's from Converting Production can be challenging. We help our converting industry clients meet those challenges.
By utilizing the latest conveying equipment technology, we design and implement material handling systems with the accuracy and flexibility to meet the ever-changing needs of Converting production schedules.
What we offer paper & pulp mill operations
Experience: we have installed systems and equipment for many of the industry's major players. We understand the challenges
We help customers eliminate product damage
We efficiently move materials from production to palletization
We help customers queue up enough product to minimize or eliminate downtime effects on production schedules
We help customers queue up enough product for conventional palletizers
Our systems tend to minimally affect existing equipment
We provide buffer storage enhancements
We design around high production capacity equipment
We provide systems that have the long life and durability required for interfacing with 24 hour a day, seven day a week converting operations
We help build redundancy into the design of the equipment
We're integration specialists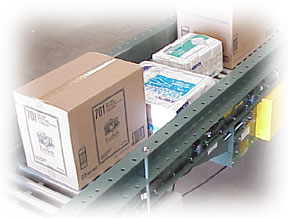 We understand the needs of paper and pulp converting operations - and how to meet them
This understanding comes from decades of experience in this industry, where we've completed scores of projects from very focused and specialize to very large and enterprise-wide.
When cases of products come from just about anywhere, anytime, at any speed, it is essential that material handling equipment and packaging equipment work together. That integration requires communication, and not just at the equipment level.
Each of the conveyors, wrappers, case packers, tapers and palletizers require product to be delivered to them in a specific manner. To achieve a true System Integration as those products move, so too must the information move about any particular product. The Material Handling System Control must maintain continuous contact with Main System Control to make it possible for each product to be routed, stored, and accumulated to reach its proper unitized load destination. The journey begins at the converting lines where information is gathered about what products are being sent and ends in the warehouse with palletized loads, properly labeled for lift truck routing.
This understanding has allowed Cisco-Eagle to assist clients in integrating systems to meet those demands.
It all starts with design
Cisco-Eagle is not a manufacturer: we design systems based on your requirements, not on what we produce. That way, you get options on the kinds of material handling and packaging equipment to best serve your application. We specialize at blending technologies and equipment to create the optimum solution for you.
For instance - Caseless Poly Bag Handling Systems
Many mills find themselves in the position of needing to convey both cases and poly bags on the same equipment. Poly bags are relatively new, but they are gaining popularity in the industry. Eventually, we think most mills will want systems flexible enough to handle its loads, whether poly bag or in cartons.
Conventional conveyors typically cannot handle these loads, but Cisco-Eagle has designed multiple systems that do, utilizing EZ-Logic with 2" roller centers. The conveyor must be electronically zone controlled or use a sensor roller to achieve zero pressure in order to convey the poly bag.
The benefit is that you don't lose accumulation space. Zone breaks are normally needed to separate items on a conveyor. With this application, zone breaks are not necessary, which means more product can be placed on the conveyor.
Services for paper & pulp converting operations
Ability to interface with controls, networks, and control packaging
Product Conveyors

Case Conveyors

Poly Bag Conveyors

Pallet Conveyors

Roll Handling Conveyors: 10,000 to 20,000 lbs. Capacity

Palletizers: standard and robotic

Case Packers

Double Stackers

Pallet-less Systems

Poly bag Systems

Custom software to enhance or expand existing systems

Overhead roll handling devices.

Special Equipment such as powered rollers, lift gates and more