Automated Vertical Carousels
Vertical carousel systems save 70% floor space while increasing accuracy & slashing labor costs
Ask an Expert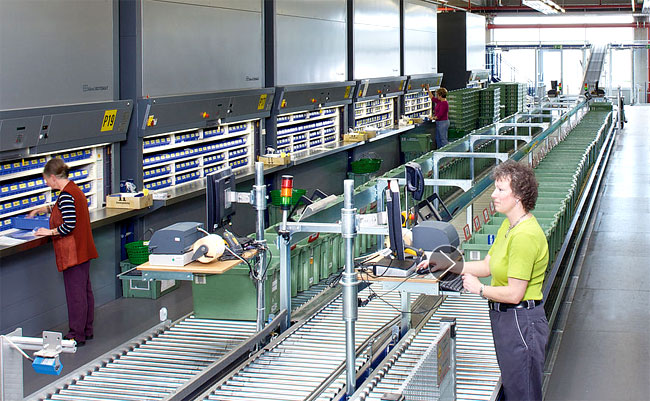 Vertical Carousels are rotating shelves that move up or down on response to your commands, delivering items at an ergonomic and convenient access window. Carousels operate with rotating shelves and a chain-driven carriage to deliver loads to operators  for faster picking, packing or assembly. You can also choose vertical lift modules for a more configurable option.
Goods to person versatility
Since these carousels deliver materials directly to operators, they minimize walking, climbing, bending, searching, or reaching for inventory. These systems utilize a pass-through design that eliminates time consuming transport of items from floor to floor. Point-of-use design keeps parts closer to the operation, eliminates trips to cribs or stock rooms, since a space-saving carousel can be placed much closer to production areas or pick modules. Dual-access options are available for versatile multi-operator use, both front and rear or on multiple floors. This provides a tremendous amount of flexibility.
Product protection is also a factor with vertical carousels, which enclose your load in a dust cover protection panel system that minimizes dust and particulates in product storage. This reduces housekeeping and plant maintenance burdens.
How much space do vertical systems save?
Because of its minimal footprint, a vertical carousel provides the same amount of storage space as multiple rows of traditional shelving or modular drawers or carton flow racks, for that matter. In this scenario, a standard vertical system saves over 1,400 square feet of expensive floor space for other uses. And you also get the automation, security, and accuracy/throughput increases along with that extra space.
Use vertical carousels to increase storage density, throughput and efficiency while reducing inventory and labor costs.
Carousels reduce walking and order picking "search time", which drives productivity increases of up to 2.5 times
Vertical carousels provide significant space savings over traditional static storage solutions - the increase in storage density can result in floor space recovery of more than 75%.
Systems are easily interfaced with many warehouse management systems, warehouse control systems, or other host architectures

Read our customer reviews