Improve safety, reduce tedium and repetitive motion injuries with automated procedures and processes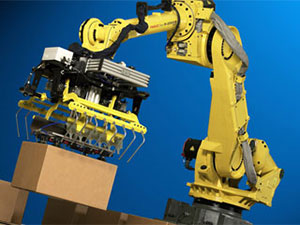 Automating certain processes in your facility can not only improve throughput, but also add to safety and production quality. Most automation functions perform jobs that require repetitive motion, are tiresome to do over and over, are hazardous to human workers, or that need higher speed or more accurate completion. When adding automation, workers are freed up to handle higher level tasks that require decision making on the fly, proving them with more job satisfaction and fulfillment.
Automation can happen through specially designed equipment that handles limited operations, through robotics where a machine is programmable to perform various jobs, or through robotic industrial vehicles that learn specific paths through the facility and then repeat the cycle of those paths in order to aid specific operations in the warehouse.
Some of the automation offered through Cisco-Eagle is stretch wrapping equipment, palletizing and packaging robotics, pick dispensers and tool tending. Cisco-Eagle works with excellent automation and robotics suppliers in order bring you top-notch quality that will not only meet your needs, but exceed them so that your investment will last for years.
Learn more from Cisco-Eagle at: