Easy, economical protection - configure it exactly to your application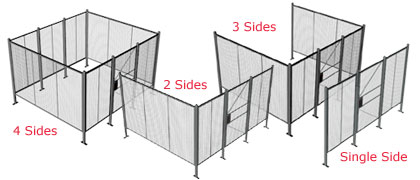 Standard sized panels; 5' 0" high by 1' to 10' wide.
Panels install horizontally between posts.
Barrier may be built to any height, use single panel or stacking multiple panels.
Welding curtain sized to fit panels are available.
Hinged, double hinged, sliding, and vertical rise gates available.
Simple bolt up assembly, easy to remove for maintenance access.
Lift out panel openings available.
Automotive standard barrier available.
Custom sizes, heavy duty options available.
Electrical interlock available per your specification.
Panels may be ordered with any mesh, expanded metal, sheet metal, or clear Lexan.