About Rail Systems...
Rails are available in three different materials and five different sizes to meet your specific material handling needs. The enclosed Rail Systems design reduces the accumulation of dirt and grime on the internal rolling surfaces, which reduces rolling effort. Combine rail systems with air balancers and end effectors to create a versatile, efficient material handling system.

Balancers mount to rail systems in multiple configurations
Standard 24' x 10' rail systems are offered here, but many other sizes, styles, and balancer options are available
Balancers mount by trolley or hook configurations
Rail systems can mount parallel or perpendicular to overhead support steel. To ensure your supports can bear the weight of a rail and balancer system and its load, consult a qualified engineer
Provides rectangular coverage for a single workstation or an entire assembly line with multiple bridge cranes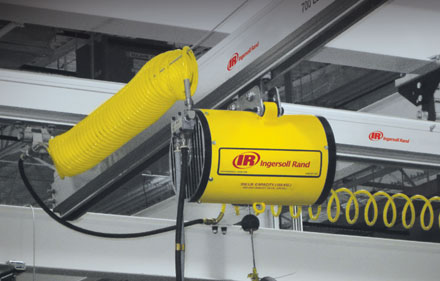 Rail and balancer system, underhung from ceiling supports does not occupy valuable floor space.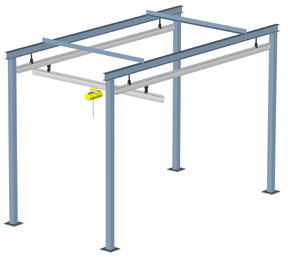 Steel structure for floor support allows you to place a bridge crane anywhere you have a physical footprint regardless of ceiling structure.
Rail Material Construction
Aluminum Rails
Lightweight and available for long spans.
Extruded: From aluminum alloy 6061-T651
Clear Anodized: For a smooth, clean, corrosive-free surface
ZRAT: Available in lengths up to 24 feet (7 meters)
ZRA1: Available in lengths up to 30 feet (9 meters)
ZRA2: Available in lengths up to 30 feet (9 meters)
Steel Rails
Strong, economical choice, ideal for heavy weight applications.
Roll Formed: From 9 gauge, A 569 hot-rolled steel
Spot Welded: With automated welder for maximum strength
Powder Coat Painted: for durability and smoothness
Strongbacking: available for increased capacities
ZRS2: Available in lengths up to 24 feet (7 meters)
Stainless Steel Rails
Engineered for clean room applications, ideal for the food and pharmaceutical industries.
Roll Formed: from 10 gauge, 316L stainless steel
Spot Welded: with automated welder for maximum strength
ZRSS: Available in lengths up to 24 feet (7 meters)
Hangers
We offer a wide variety of hangers to attach to virtually any type of overhead steel. Available in either rigid or pivoting styles, to match the material handling operation.
End Trucks
We offer both articulating and rigid end trucks, but primarily focus on articulating models. This feature maximizes the ability of the user to precisely position loads by allowing them to move only the portion of the bridge crane near the load.
Advanced Trolley Design:
Trolleys are designed to work in conjunction with the enclosed track rail to reduce the rolling effort required to move a load. In fact, a force equal to only 1% of the total rolling weight is needed to move a load.