Educational Development Corporation's E-commerce Order Fulfillment Center Meets Viral Demand
High-speed, accurate e-commerce distribution
An alternative to screens, television and social media

Tulsa-based Educational Development Corporation is a favorite among parents for its array of popular children's books from Usborne Publishing and Kane Miller , ranging from Everyone Poops —one of its most famous titles—to award winning books like That's Not My Mermaid, Anna Hibiscus, The Wipe Clean Alphabet Book, I'm a Dirty Dinosaur and many others. The company has been in business since 1978.
EDC is focused on enriching the lives of children. Its products have received prestigious awards from parental and educator associations for commitment to children's literacy. The company's educational quest is the heart of its mission statement: "The future of our world depends on the education of our children. EDC delivers educational excellence one book at a time. We provide economic opportunity while fostering strong family values. We touch the lives of children for a lifetime."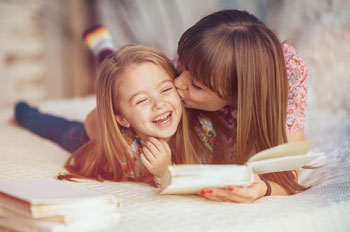 "Our books are educational alternatives to TV, devices, video games, screens and things like that," said Chief Executive Officer Randall White. "They're the kind of books parents want their kids to read."
Fundamental change and exponential growth
EDC goes to market primarily through its independent consultant sales group (Usborne Books & More), usually parents whose children are avid fans of the company's books. They sell through a number of channels, including parties, book fairs, fundraisers, personal interactions, networking, social media and other means. Consultants have personally-branded e-commerce websites that feed orders directly to EDC for fulfillment.
According to Heather Cobb, Vice President of Usborne Books & More, a series of new marketing initiatives and changes to order fulfillment fueled massive growth. "Facebook parties and other approaches brought us a new demographic of consultants—young moms who thrive with technology and social media." EDC created new incentives and programs to take advantage of these trends and help its consultants sell faster, more easily and more conveniently.
The impact was nearly immediate.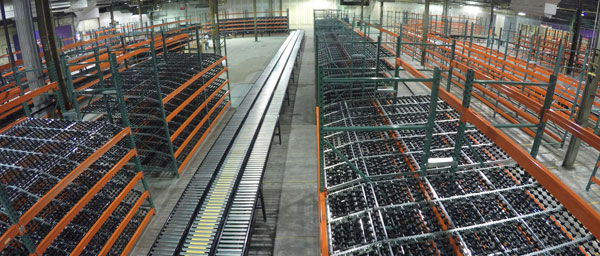 EDC's active consultant network grew from 7,000 in 2014 to more than 30,000 in 2018. White said that EDC's marketing strategies continuously recruit new consultants and help make existing ones more effective and profitable.
Consultant network growth drove new revenue, which jumped from $32.5 million in our fiscal 2015 to $63.6 million in fiscal 2016 to $112 million in fiscal 2018.
"Things took off," said Cobb. "People reacted to our new approach and we just skyrocketed. Over 93% of our orders are now e-commerce and direct to the end- customer."
Extraordinary demand stressed shipping capacity
As this growth occurred, EDC shipped orders from the same 110,000 square foot distribution center in Tulsa, Oklahoma it had operated for decades. The facility was short of storage, office and operational space.
EDC was shipping an average 2,500 orders a day, but Craig White, Vice President of IT, knew that its facility and fulfillment methodology would be overwhelmed. "Our number of orders went through the roof. We couldn't keep pace in that facility. We had just one pick line and didn't have enough room for bulk storage. We built a makeshift pick area in the upper part of the warehouse where we handled our top 500 movers." None of these changes were enough.
"We used to ship orders to the consultant, who would then deliver them to customers," said White. "We started shipping directly to customers, which everyone loved, but meant we had an increased amount of shipments to deal with." This change shifted EDC into a full-fledged e-commerce fulfillment operation. It helped satisfy customer expectations in the age of social media, e-commerce, convenient online ordering and ultra-fast delivery. This meant more orders and shipping destinations, alongside waves of new business.
EDC shipped record order volumes—5,000 a day in three shifts—but failed to meet the ever-increasing demand. "It wasn't working," White said. "We couldn't get shipments out on the same day. We worked 24-hour shifts five days a week, plus Saturdays. We worked around the clock and couldn't get it all out."
More labor didn't help. "We grew so fast that we were just throwing bodies at the problem. We told people to go home and bring back a friend. We were still behind."
How far behind? "We went into 2016 with a consistent 40,000-order backlog," White said.
New employees, high volumes and higher error rates
"When we started this process, we were working so hard to get so many orders out with so many new employees that we had more mistakes than was acceptable," said White.
A combination of fast-increasing order volumes, a host of new employees and manual picking increased the error rate. Many of its orders were handled again through a quality control department to resolve errors, which further slowed fulfillment.
Overcrowded and overwhelmed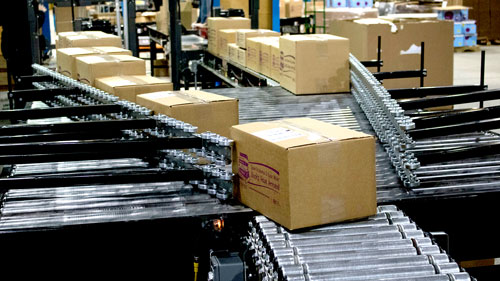 According to White, the company was out of space in all areas. "We needed elbow room in both the office area and the warehouse—but mostly in the warehouse."
The original plan was to revise aspects of its existing operations and continue to pick orders the same way, but EDC quickly moved to new concepts as order volumes skyrocketed. The growth was so explosive that a simply adding space and people to the existing process was inadequate.
"We started on revisions to the existing line—particularly the packing and inspections areas," said White. "It progressed from there. Then we changed the concept and asked for new ideas for layout and flow."
EDC chose a 400,000 square foot building just a few minutes from its old facility for its new distribution center. Cisco-Eagle was selected to design and implement the new conveyor system, flow racks and other material handling equipment.
The move occurred after the end of EDC's busy 2015 holiday season. "On February 12, we shipped orders from our old building, made the final pieces of the move to the new facility and then started to ship from the new one on February 15," said White. EDC's upgraded system is based on a series of integrations. "We've had more than a few major projects," White said. "We received tremendous support from Cisco-Eagle on these installations. When something needs to be done, they work tirelessly to accomplish it."
EDC moved into its new facility with two complete mirrored pick lines, and shortly thereafter a third smaller line exclusively for the top 500 sellers. Deposco warehouse management system (WMS) and Lightning Pick were installed and integrated with the pick lines in May 2016. While these implementations boosted productivity, there were learning curves to keep up with the demand of going from $35 million to $112 million in sales. "We peaked with a backlog of more than 125,000 open orders in December of 2016," White said.
At this point all orders were manually pushed through the entire pick line in totes on gravity conveyor. EDC continued to collaborate extensively, led by UPS with Cisco-Eagle, Deposco, and Lightning Pick in 2016 and early 2017. This led to the divert project which ultimately delivered the dramatic productivity gains.
A new, state-of-the-art order fulfillment operation
In the new operation just as before, orders are transferred from various order entry platforms (e-commerce, order entry from sales people, in-house order entry) to a fulfilment database, and then to the company's Deposco warehouse management system, which assigns each order to a pick wave and line. The wave is released and a pick ticket is generated.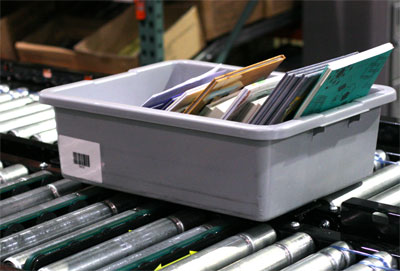 After that, the picking process begins. EDC picks orders into totes. A barcode label called the license plate is scanned as the tote is introduced to the system. "This marries the tote to the order," White said. "Then it starts down the conveyor system."
"What's great," White added, "is that the system won't allocate an order to any particular line until the whole order can be filled. Our average order is seven line items. We have 14 zones, so on average, every order has picks in only seven zones, and can skip half our pick lines. They don't travel needlessly through zones with no picks, which reduces the total pick time for all orders ."
The totes are scanned for SKUs in each zone as they are transported by a powered conveyor line called the passing lane. If there are picks in a particular zone, the tote diverts to picking lanes on either side of the passing lane. Multidirectional diverts gently move the totes to picking conveyors on the correct side of the passing lane . These lines surround the passing lane, and are manned by pickers, who fill orders from high-density case flow storage on either side.
Utilizing pick-to-light technology (more below), pickers quickly select the necessary books, then push the totes back to the passing lane so they can proceed to the next pick zone or ultimately to the packing area. If an item is missing from the order, the system recirculates totes back into the zone until all required books are placed in the tote—a significant upgrade to picking accuracy.
Simplicity and precision at high velocity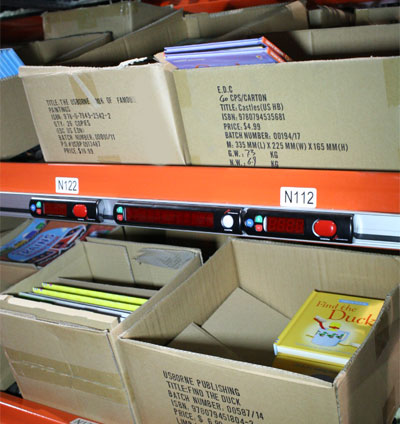 EDC's operation makes it much easier for order pickers to find and pick books because it utilizes pick-to-light technology from Lightning Pick, a series of modules installed on flow racks that visually display pick locations and quantities.
"Pick-to-light mimics our process," said White, "but makes it faster. It's slow to read a pick ticket, and it results in errors. These modules light up to let pickers know what books to pick and how many. Our pickers don't have to read anything. They don't have to search for that pick location—the system automatically shows them."
With thousands of book titles in high-density flow storage slots along its conveyor lines, reducing the need for pickers to learn pick locations was critical. EDC has seasonal spikes—primarily Christmas, but also Easter—that have much higher order volumes and require more picking labor.
The system simplified employee recruiting and reduced the training curve, allowing seasonal or new employees to become productive faster. "We can tell within a few hours if an order picker is going to work out," said White.
Due to its inherent speed and simplicity, the system makes it easier to execute tasks like adding, removing, rebalancing or re-slotting books. Since pickers don't have to memorize locations, EDC can make fast changes without confusing workers or forcing them to re-learn SKU locations. This also allows the company to place workers in various positions and achieve more workforce flexibility, as anyone can pick in any position across the entire distribution center.
The totes travel until their orders are complete, and then head for the packing area.
High-velocity, accurate packing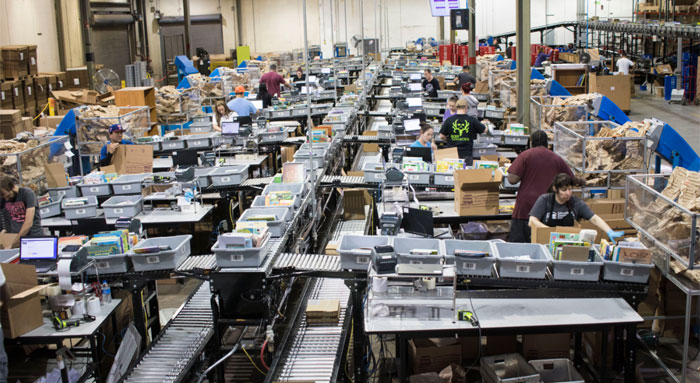 EDC uses multiple types of colored totes, which are automatically diverted to different packing lines based on the needs of that particular order and the packaging needed to ship it. That decision is made by Deposco, warehouse management system, based on dimensional information provided on each SKU in the system.
Once orders enter the packing area, they queue on zero-pressure accumulation conveyor to wait for an available station. The system delivers orders to packers based on labor load to ensure that no packer is overloaded while others are idle. Totes will not divert to packers with a full queue ; they wait or continue to an open packing station down the line. If the packers get behind, the system has plenty of buffer space to allow order picking to continue uninterrupted.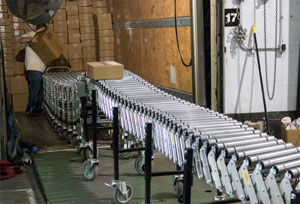 As they receive orders, packers scan each book as a quality control measure to ensure the right books in the right quantity are in the tote. Once the orders are checked, a ship label and pack list print automatically. Cartons are packed, braced and blocked before the shipping label is applied. Packers then place the filled orders on a takeaway line to be conveyed to a void filler machine, a taper, onto a flexible conveyor, into an outbound trailer—and eventually delivered to happy children.
"It's actually a fairly simple system that addresses a number of complex needs" White said.
EDC was ready for its record-smashing 2017 holiday season
The system allowed EDC to reduce its 125,000-order backlog to zero. "In November 2017, orders were up roughly 20% over 2016—and we had no backlog," said White.
"A perfect storm of things came together as we've implemented this system over a short period of time. We've gone from a single pick line with paper picking to state-of-the-art, computerized systems. The process improved so much."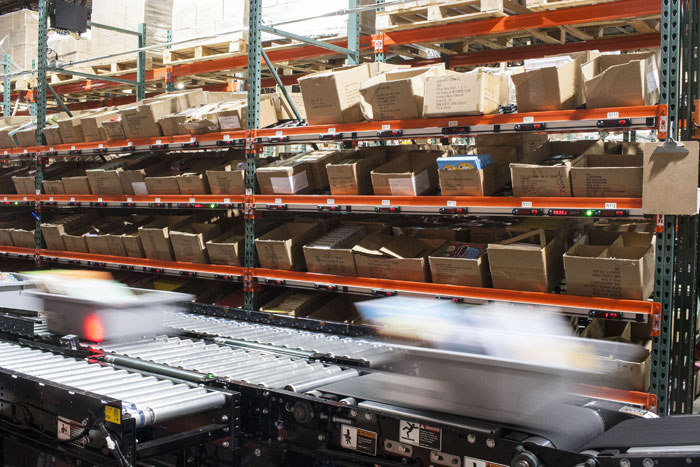 In 2015, EDC was shipping out 2,500 orders a day. By 2016, its throughput shot to over 7,000 with the capacity to handle more as needed.
EDC can now cope with the busiest day of its busiest season in a single shift, and has the order processing capacity to handle future growth. "Our largest shipped order volume for two shifts was 15,000 in a day," White said. "We don't have to do that every day, but it is good to know we can. "Since we have experienced several 10,000 order throughput single-shifts and are receiving 10,000 orders daily, we are able to keep customers happy."
EDC's most critical fulfillment metric is the number of orders shipped in a day. "We also look at line items and dollar amounts," White said. "When I look at my dashboard, the first thing is the number of orders we ship, by line."
The time it takes to fill an order from entry to packing has dropped by more than fifty percent.
The system's integrated order checking, ease of use and precision helped address error rate issues.
"We cut our error rate dramatically from 7% to 1.5% - 2%," White said. This allowed the company to eliminate its quality control department, transitioning those employees into picking or packing roles, while greatly improving its accuracy and efficiency.
"All of the improvements made over the past three years have greatly impacted our overall financial performance. Increasing daily shipments without adding personnel and reducing error rates were key factors to our 82% increase in profits this past year" said Dan O'Keefe, the Company's Chief Financial Officer.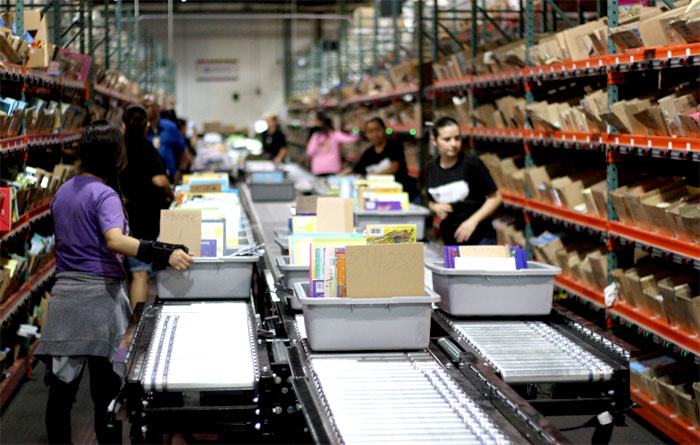 The new order fulfillment operation allows EDC to keep its customers satisfied
EDC's combination of desirable products, an outstanding sales organization, first-class marketing strategies and its new order fulfillment strength have set the stage for future growth. White believes that the company's growth curve is just beginning, and now it has the order fulfillment capacity to satisfy its customers, serve its sales organizations and meet any future demand. "Our multiple marketing channels can drive exponential growth, and we're seeing that," Randall White said.
White added that more growth is expected. "We want to increase our margins and meet future demand." The new system helped the company prepare to do exactly that.
EDC can now meet its demand quickly and much more efficiently. The company now processes most orders the same day they are placed. "The system does everything we've asked it to do," White said. "We have room to grow—and we aren't really even taxing our capabilities yet. Having the capability to put smiles on the faces of our customers and our consultants makes us incredibly happy."