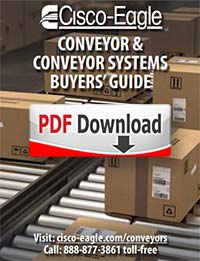 Resources for conveyors & systems
Download our PDF guide to conveyors and systems for a listing of conveyor types and applications. Check our conveyor buying guide, ranging from information on safer conveyor operations to specification assistance and operational tips.
Our blog also has extensive conveyor information, tips and assistance. You can also check our conveyor calculators for more help.
Cisco-Eagle offers personalized, on-site assistance to help you find the right solution for your operation. We have installed hundreds of conveyor projects and are ready to help. Contact us today to get started.