Klein Tools Upgrades Distribution Operations to Match the Quality of its Iconic Tools
"The right quantity of tools, in perfect shape, shipped on time, every time"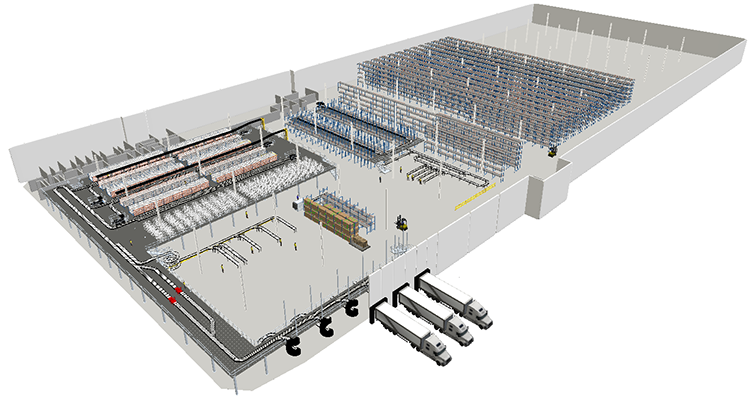 Iconic, American-made tools
If you know a professional tradesperson, you've probably seen Klein tools hanging from their belts, on their workbenches, in their toolboxes or on their trucks. Klein tools are revered by professionals—electricians, telecom technicians, plumbers, linemen, contractors and many others—because they need tools that let them do their best work.
Klein Tools has been owned and managed by the Klein family since its founding in 1857, which helps explain the company's extraordinary quality. It was this reputation for quality in all things that drove the decision to change its distribution operations.
Change was inevitable
Klein needed a distribution operation that lives up to the quality of its innovative, American-made hand tools—a modernized operation with plenty of space for picking, inventory and employee amenities. As its business increased, Klein knew it needed to upgrade order fulfillment.
The company was operating from two older warehouses in Cedar Rapids, Iowa.
"We were loaded and working a lot of hours," Said Bruce Carter, Director of Distribution. "We built this new building to handle the volume increases we expect to see over the next five years. I think it's actually hit us even faster than we anticipated. Sales are through the roof.
"The consensus from senior leadership was that we had a lot of land and facilities and people here in Texas," added Carter. "It was a strategic evolution."
The Mansfield location allows Klein to manufacture and distribute many of its iconic tools from a consolidated campus while streamlining the supply chain process and reducing cycle times.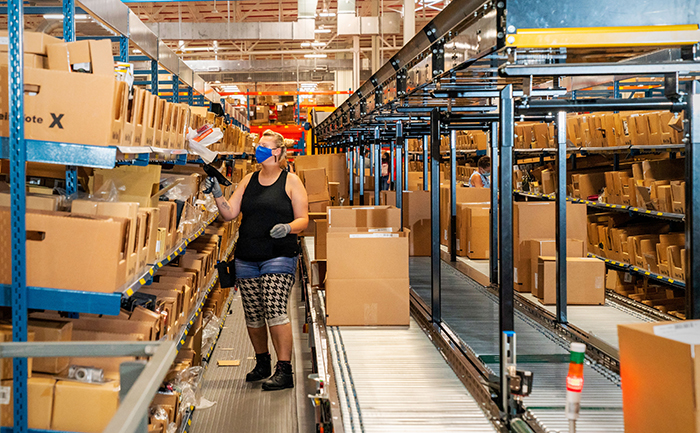 Goals for the new material handling system
Strategic consolidation: Klein wanted to ship directly from its Mansfield manufacturing operation so it could replenish inventory easier, reduce transport costs and centralize critical functions.
More operating space: "We had warehouses in Cedar Rapids that were bursting at the seams," said Carter. These space limitations impacted every part of the operation.
Reduced touches and interactions: Klein's operations required too many touches—the number of times a person interacts with an order. Carter and his team wanted to make the system less dependent on those interactions.
Employee safety and better ergonomics: Klein is committed to worker safety and wanted to reduce manual handling, reaching and stretching that could result in injuries. It also wanted to restrict the interactions between forklifts and pedestrians.
Increased accuracy and higher quality: Klein wanted to bake quality checks into its automated system to ensure its customers receive their orders on time, free of damage and in the right quantities.
"We realized we had a lot of bottlenecks and inefficiencies with our single-line system," said Carter. "We wanted these new technologies to minimize those bottlenecks. We wanted to improve our line fill, which drives customer service. We want customers to get the right things at the right time in the right quantities with no damage."
Klein's state-of-the art distribution center
To be sure its customers have the best possible ordering experience, Klein decided to build a modernized 275,000 square foot distribution center in Mansfield, Texas.
Because shipping cycles, order volumes, packaging and customer needs are fundamentally different, Klein's new facility accommodates two material handling systems: The Main System, which serves most of Klein's customers and The Home Depot system, a case picking operation.
The main pick module
Klein ships tools to retail customers and distributors, sometimes direct to stores and other times to distribution centers. Ecommerce orders are also processed through the main system. These varied destinations and packing types dictated a high level of flexibility in the system design.
How it works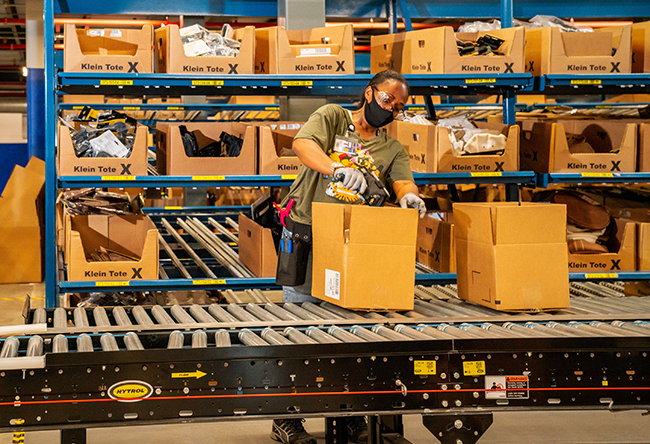 Klein picks orders from a high-density, two-level pick module using a pick-to-carton strategy, which allows it to pick and pack orders without a dedicated packing department. The main pick module features a robust 22 zones of mixed each and full case picking.
"Depending on the time of day, the order can ship the same day, but will definitely go the next day if not," Carter said. "We can get a lot of orders processed very quickly now."
The system lets Klein strategically locate its inventory, driven by more and better data.
"We've been constantly working on slotting so we don't have high concentrations of picks in one area," Carter said. "At Cedar Rapids, we had the 'singles area' which was like buffalo grazing with everyone trying to get their picks off that part of the line. Not everyone could be there at the same time and it caused bottlenecks."
The order picking process
When the day's orders are downloaded from Klein's enterprise system, the system prints and sorts labels, then assigns them to picking zones. The system calculates the right size carton for a given order and prints that on the shipping label.
Once they receive the pick list, order picking employees place cartons on the conveyor depending on their assigned picks and zones. A shipping label is attached to the carton and a picking label applied to the inside flap. Orders are started at or near the most logical zone so that picking begins as quickly as possible and travel time on the conveyor system is minimized.
Since the pick module is multi-level, orders take these paths:
Orders that start on the second level are usually fully picked there and transported on the express lane to quality control and shipping when complete.
Orders that start on the ground floor are picked there, then conveyed up to the second level, where they either stop for picks or continue to quality control and shipping when complete.
A center-line conveyor, called the express lane, transports cartons from zone-to-zone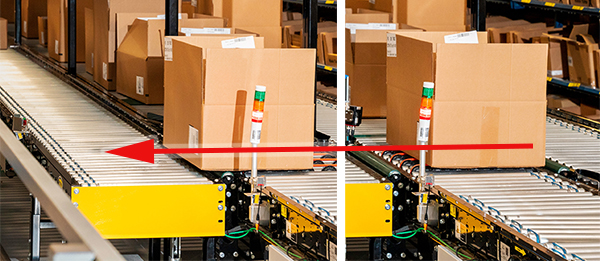 Above: a carton is diverted from the express lane to a picking conveyor.
When a pick is required at a zone, the system diverts cartons from the express lane onto picking lanes on either side. Inventory is stored on high-density carton flow racks on both sides of the conveyor line, where products are presented within easy ergonomic reach.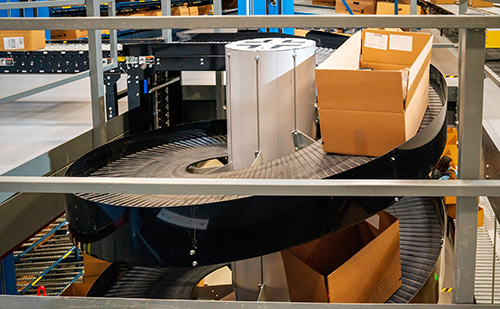 The pickers scan the carton picking label with RF guns, which read the SKUs and quantities needed. Once they pick those items and place them in the carton, they slide it back to the express lane, where it continues. Box waste is removed from the pick module using trash conveyors.
Klein ships envelopes for some smaller items or ecommerce orders. Those are assigned to boxes and then picked as they travel the conveyor system.
"Cartons never stop when they don't need to," said Carter. "If an order is finished, the express lane will take it all the way to the scale and tapers without stopping. It travels only where it has to go."
Klein's WMS (warehouse management system) updates as soon as picks are made and scanned. Once all picks are completed for that order, the system marks the order complete and the order conveys toward a series of quality checks.
Integrated quality control
Klein is committed to accurate order picking and built redundant quality controls into the process: weight and quantity.
"Once boxes reach the end of the line, we have double verification," Carter said. "First, we check weight to see if it's within tolerance."Each order's barcode has information on the anticipated weight of the picked items, so the approximate weight of the carton is known to the system. If the carton weight is outside tolerance, it diverts for re-work.
"Then it undergoes a pick confirmation," Carter continued. "We match picked quantities to the pick ticket quantities. Say there are ten items on the pick ticket and ten in the carton. We send it to shipping. But if the quantities don't match, the box kicks off to a reject line."
Once quality checks are resolved, the system sends the order to be taped and sealed, and on to the shipping area. The system notifies Klein's WMS that the order has shipped, which allows automatic customer notifications.
The shipping system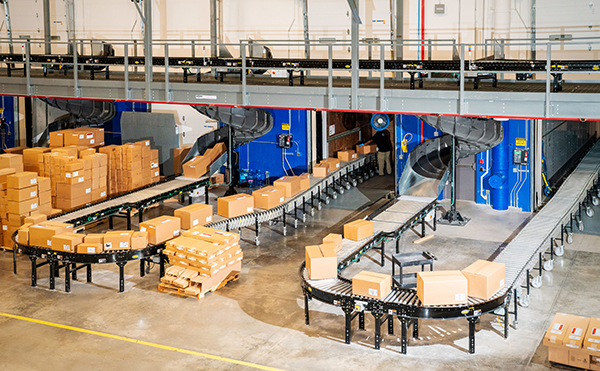 Since the picking, quality checks and taping are located on the pick module's second level, the shipping sortation line is located on a platform above the dock doors. The shipping platform is ceiling-supported, which leaves the floor free of columns.
As packages travel through the shipping area, they pass scanners and divert as necessary:
The first two chutes divert to UPS and FedEx, where cartons pass a scanner and diverter. If the order is destined for either line, it sorts at the appropriate chute and slides down to floor-level flexible conveyors, which flow directly into trailers.
If the order is destined for LTL, it bypasses the parcel chutes and continues toward the three LTL shipping doors. At each sort location, cartons are scanned and diverted down chutes to flexible conveyors, where pallets are built.
The system lets Klein dynamically change these shipping destinations when necessary.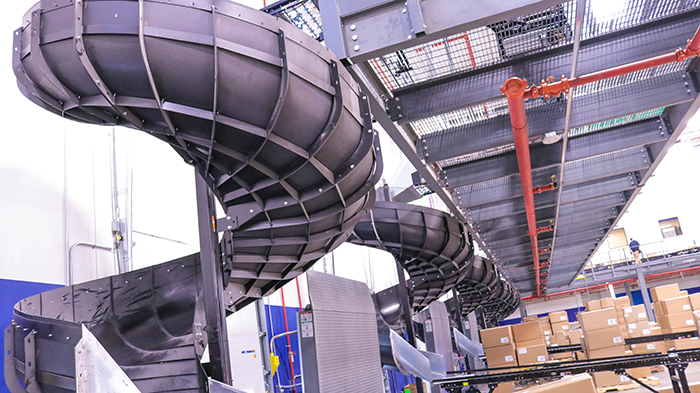 Beneath the shipping platform, finished orders slide down gravity chutes to flexible conveyors. The platform is celing-supported, allowing for full access to all space near the shipping doors.
Klein's customers are typically retailers, third-party suppliers or supply houses. Some of these customers ask Klein to ship directly to retail or individual plants for them, while others may ship direct to retail or point of purchase.
Fast throughput—20 cases per minute from 22 picking zones—is built into the system, so that Klein accurately fills orders faster than ever before. The system design anticipates future growth and can be expanded to meet new demands as business increases.
The Home Depot pick module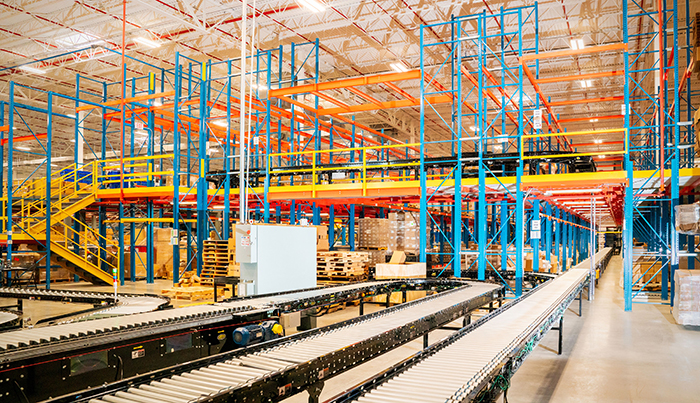 Klein picks and palletizes orders—usually full case quantities—and ships them to Home Depot distribution centers around the country from a separate picking system. "The Home Depot pick module is simpler," said Carter. "There are fewer variables."
Home Depot inventory is stored on a rack-supported, two-level pick module.
Every day, the system downloads Home Depot orders and integrates SKUs, sites and quantities into Klein's HMI (human-machine-interface), which generates and releases pick tickets—typically all the cartons that need to be picked that day. Orders are shipped to Home Depot's network of distribution centers, each of which serves a particular region or city.
Added Carter: "This is a really simple system because you just pick and the box sorts to the correct lane at the end for the shipping destination."
Case picking
If multiple orders are picked simultaneously for different sites, and more than one site requires the same SKU—say, 25 cases of the same tool for one order and 15 for another—all 40 of those cases are picked and placed on conveyors, where they travel to Klein's sortation loop.
Sortation and palletizing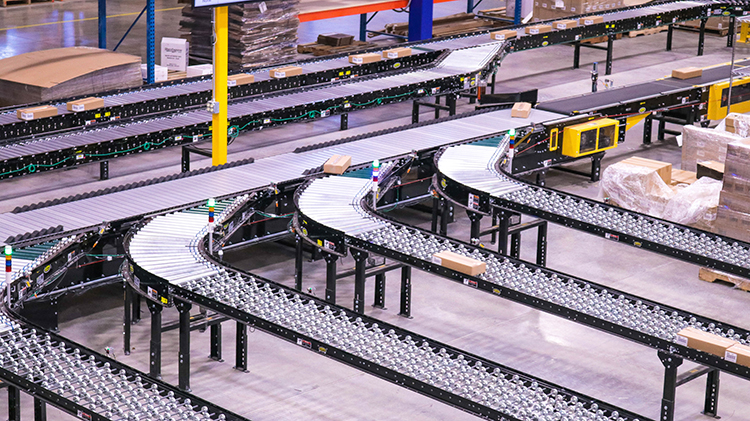 At the end of the line is a loop that sorts to four conveyor lanes—one for each Home Depot site's orders. Klein's system executes orders for up to four simultaneous sites. The cases travel the loop and are diverted to the correct lane to fill the order for a given site.
Once orders reach the sortation loop, the system scans each carton as it passes one of the four palletizing lanes. If that lane needs five cartons, it diverts them. The remaining cartons flow to the next lane. Each lane diverts its cartons until the order is filled. When the next SKU arrives, the process repeats for that group of cartons. A monitor mounted above the sort lane counts down the number of cases until that SKU is fully picked.
As cartons fill the palletizing conveyor lines, Klein builds pallets, stretch-wraps them, and stages them for shipping.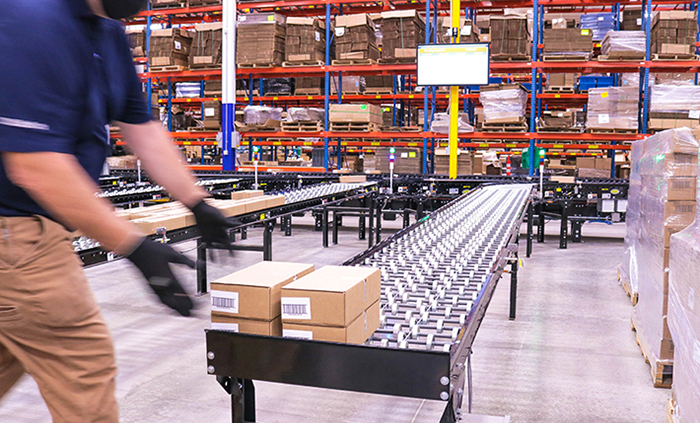 Quality control
Redundant quality systems help Klein ensure that it ships the right quantities of the right SKU for each order.
If a case was under-picked, Klein personnel can read the HMI monitor and pick the needed SKUs to complete the order.
If too many of an SKU are picked for the active orders, the excess cartons enter a recirculation loop, where they're investigated and re-slotted back into inventory once the active orders are complete.
"Our systems help us get it right," said Carter. "The overhead monitor shows us where we are and what's left. If you have, say, fifty boxes that need to go on a pallet, once you have that done, the screen will go green to let you know it's complete. We're accurate because it's very simple."
Once the active orders are complete, Klein palletizes and wraps full them for fulfillment. "When all the pallets are finished for a city, that order is consolidated. It either sits on the floor or is loaded into a drop trailer," said Carter.
Like the main system, the Home Depot pick module was built with expansion in mind and will allow Klein to adapt to growth by adding more levels and storage positions.
Replenishment and inventory storage
The distribution operation is under the same roof as Klein's manufacturing plant, where most Klein's iconic tools are made and kitted. The Mansfield facility was built with tall ceilings and extra space for expansion. This allows for tall racks and a VNA (very narrow aisle) rack system that provides high-density storage and has room for expansion. Replenishment is fast and efficient due to this proximity and working space.
The results: faster, better order fulfillment
Klein achieved its goals for the project.
It increased space and allowed for future expansion. "We have much bigger operation here (in Texas)," Carter said. "Cedar Rapids had five doors—this building has 32. Their inventory racks went four high, and this building goes six. "The new facility was built with expansion in mind so that as its business increases, Klein can easily expand storage and picking operations.
Accuracy and quality increased. "Both systems—the main pick and the Home Depot pick modules—have tools to help us reduce errors we didn't have before," said Carter.
Shipping is faster than ever. "We had one day at 18,000 picks, which is more than we ever did before," Carter said. "That's going to become the norm here. We can do 20,000 if we need to. We couldn't have handled this many picks at the old facility." Bottlenecks that restricted speed were removed so that orders swiftly flow through the system. "In Cedar Rapids, cartons had to travel the entire system to reach shipping," Carter said. "Here we can make them skip zones. It's like an express bus."
The facility is more ergonomic. "We designed everything with safety in mind," said Carter. "We set the conveyors to more ergonomic heights for our pickers. They don't have to handle things they don't need to handle. We make sure they're not handling things that are too heavy or at bad ergonomic positions."
Forklift-pedestrian interactions, a safety concern at most every warehouse, are kept to a minimum. "Forklifts aren't allowed everywhere," said Carter. "Most of the people are actually in the pick module away from that traffic. There are only three places where forklifts are allowed."
Klein reduced manual handling and order touches: If a carton passes its quality control steps, it's handled only at the points of picking and shipping—and less than before in those functions.
A true partnership
"Cisco-Eagle isn't like other companies I've dealt with who put in technology and leave," Carter added. "It feels like a true partnership. You can tell Cisco-Eagle is in it for the long haul and making sure we're set up for success."