Standard duty shelving is high-capacity, high-density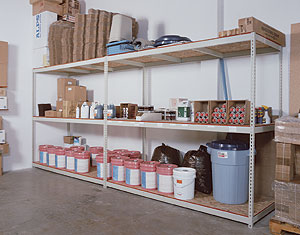 Standard duty units are durable, dependable shelving designed to handle loads ranging from 500 to 750 pounds per shelf. Listed capacities are for uniformly distributed loads on one shelf. Capacities are for steel components, and do not reflect the capacity of decking material. Rivet shelving assembles easily, quickly, and nearly tool-free. Shelves adjust on 1.5" increments, making it easy to configure shelving exactly the way you want it.
Starter units have 4 angle posts, and can stand on their own.
Adder units use 2 Tee Posts which are shared with an adjacent unit.
Adder units must be attached to an adjacent unit.
Using starters and adders can be more cost effective than using all starter units.
The floor level shelf uses an angle beam on all four sides of the shelf.
---

Industrial Shelving | Warehousing Insights | Material Handling Systems Topics from our Blog