Warehouse Bins & Containers Specification
How to get the right container for your application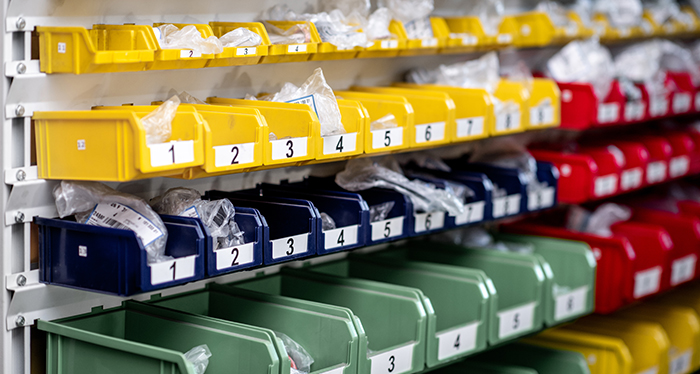 Most warehouses use bins, cartons or containers as bulk product shipments are broken into "eaches" or smaller quantities for putaway, storage and eventual picking. This is also largely true of assembly and manufacturing lines where components are transported between workstations and work is progressively done. While they don't exactly break the bank given their costs, specifying the wrong container can result in a less efficient, less ergonomic operation.
Containers are critical for effective materials storage, movement and protection
A plastic bin that spends its life on a shelf being picked, placed and restocked isn't top-of-mind. The right choice of container is crucial for optimal material movement and to protect goods from contamination and damage. Various criteria need to be considered.
Bins for order picking and storage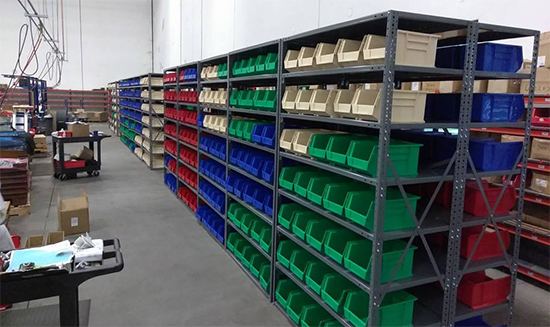 The first consideration for these bins is load suitability. Does the bin fit the size and shape of your intended load? Spark plugs are different from small cartons and the kind of bin you specify can make it easier to stock and pick from the bin. For instance, some applications may need transparent bins that let the picker identify a particular item before they pull it, and also lets them know when stock is running low at a glance. Some other suitability questions:
Does the bin need to nest?
Does the bin need to stack?
What surface will the bin sit on (flat shelf, grating)?
What type of surface will it sit on?
Do you need to close a lid or secure the bin contents?
Do you need to store bins when they're not in use (stacking or nesting containers)?
Dimensions: You should know your bin's dimensions — internal, external and cubic volumes. Volume and internal dimensions help you dictate storage capacity, while external dimensions come into play when you're planning to store a number of bins on a particular surface, carton flow lane, shelf or automated system. When calculating space, remember that some bins have stacking ledges that may add to their width or depth and affect how many can fit.
Make sure your bin matches with the shelving width, depth and shelf spacing you need.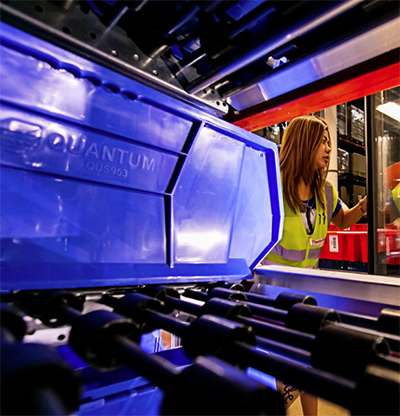 Access, handling and features: Some bins tilt out of shelving units for easy access. Others have open or angled fronts that let your hands enter the bin without moving it, beneath the shelf above. Others require the bin to be pulled. Ease of access is a critical factor. If the tote is sitting on a shelf holding small parts for assembly, the ways your workers will reach into it are critical. The wrong front types can cause accidents and slow down the process.
Open-front bins are ideal for picking and inventory management. They come in a wide variety of sizes and configurations, such as stacking, nesting or cross-stacking.
Most bin types offer dividers, but some are made specifically to be compartmentalized. Dividable grid containers are used in industrial, commercial, electronic and health care industries for storage, assembly, fabrication and distribution applications where you can create a custom compartment size on the fly as loads change.
Stackable bins let you store them compactly while awaiting replenishment or shipping. Many can stack fully loaded.
Nesting bins are space-efficient, as they tuck away as needed.
Lids are critical for some operations, such as goods that need environmental protection from dust, overspray or other contaminants.
Totes that move on flow racks may require taller bin fronts to contain the load.
Material: Bins can be made of plastics, cardboard, steel, wire and other materials. Sharp items should be stored in a tough container that won't puncture or break, particularly if they are heavy. Consider the length of time the bins will be loaded, and how long you expect to be able to use them. Longer-term operations may dictate buying more durable (and expensive) bins that will last the duration. As mentioned above, if you are working in pharmaceutical, food or other clean operations, the bin should be specified for that application, based on material type and ability to clean.
Portability: Heavy bins of metal components aren't easy to move, but you can get into ergonomic issues with smaller, hand-portable bins when they are heavy or large enough. Larger, bulk bins are typically moved by forklift or pallet jack, but some can be mounted to casters for manual movement. This lets you have some control over transport, as manual handling gives you more flexibility. Forklift feet and channels are usually recommended, and can even be useful if you can roll the bin. If the container is larger, does it fit on a standard pallet? For pallets that are moved by hand, specify ergonomic handles.
Storage and transport bins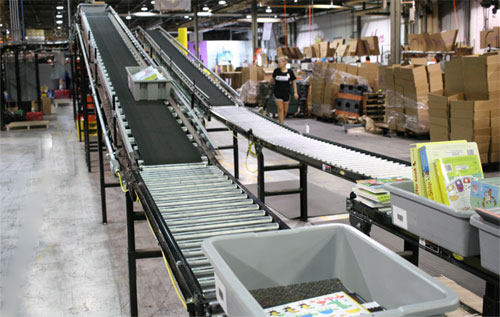 Above: totes conveyed from picking to packing.
Totes and containers may be the most ideal conveyor load, due to their uniform bottoms and consistent weights. They don't create extra dust that can cause maintenance issues. But they must be handled throughout the process and eventually returned to starting points in a picking system. Containers meant to be conveyed should be selected at the time a conveyor system is specified. They must fit the size, weight and surface of the conveyor system.
The shape of the tote and the weight of the load are things you must know in advance. For some picking operations, weight can be tricky if you are working with a large number of SKUs, especially those of different sizes and shapes. If you have existing data on the minimum-maximum loads, use that. If not, you can probably calculate the weight. Most containers should be able to handle most any weight that you put into them, but if the weight is off balance or concentrated for very small items, you may have some issues. For the tote to convey at the speed you need, there will be weight limits.
For specialized applications, totes may have to be specified. Electronics manufacturing could require ESD containers that protect the load. Pharmaceutical operations may have specific material guidelines. Food containers should be easily washable. Hazardous materials will require certain types of containers to ensure safety. Freezer or cold storage applications
Automated storage and retrieval (ASRS) systems require totes with smooth walls for maximum cube utilization for product positioning and custom interiors. Sometimes these totes may have to be custom-manufactured for the load. (See ASRS totes)
Read more: The Cisco-Eagle Guide to Conveying Totes
Focus on the application
What are you storing, how, and for what reason? How will people interact with it? Those are questions you must answer in the process of specifying totes and containers. We can help you find the right container for your needs.
More resources
---
Scott Stone is Cisco-Eagle's Vice President of Marketing with more than thirty years of experience in material handling, warehousing and industrial operations. His work is published in multiple industry journals an websites on a variety of warehousing topics. He writes about automation, warehousing, safety, manufacturing and other areas of concern for industrial operations and those who operate them.
What can we help you with?