Industrial Workstations: The Key to Improved Productivity in the Warehouse
Workbenches can be configured to increase efficiency and improve ergonomics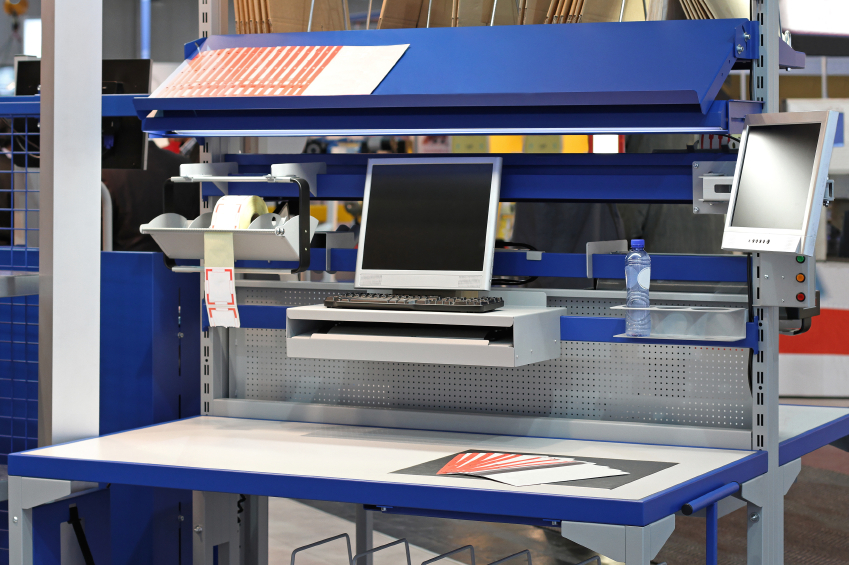 Providing employees with a comfortable, ergonomic, and efficient workspace is a necessity in any picking, packing, assembly, inspection, quality control, manifesting or other industrial operations. A proper industrial workstation, tailored to the task and employee, goes a long way toward creating a healthier and more productive workspace and environment.
There are dozens of options for workstations, ranging from a simple bench to a more elaborate set up designed with the job in mind. Let's take a look a few industrial workstations and their unique benefits.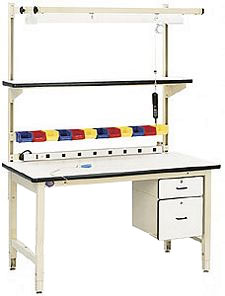 Basic Industrial Workbenches
A 2012 study published in the International Journal of Engineering and Technology found a strong correlation between workplace ergonomics and workers' productivity. When natural motions of workers were constrained by poor workstation design and layout, it made people less efficient. The study recommended modifying workstations to allow for good body postures and good tool-work contact.
A basic industrial workbench can address these issues in many warehouses because it can be customized to your business needs. The design is modular so the workbench is greatly configurable with a variety of options, which makes it a versatile choice. It can handle up to 1,000 pounds capacity so it's suitable for even the heaviest tasks. It's a good choice for assembly, inspection, packing, repair, lab and technical operations.
Cantilever Workbenches
If there is one phrase to describe cantilever workbenches, it's "built to suit." Ideal for vital warehouse areas (assembly, picking, shipping, receiving), the cantilever workbench can be configured with the exact options the application requires.
Having all the tools with arm's reach within a workstation creates efficiency and improves ergonomics.  Available options include steel shelves, dividers, bin rails, lights, drawers, power strips, whiteboards, and flat screen display arms.
In order to maximize the benefit of cantilever workbenches, work with employees to think through their day-to-day responsibilities and tasks to create the ideal workspace.
Shipping Workstations
While basic and cantilever workbenches are highly customizable, there are also options designed with specific roles in mind. Among them are modular shipping and receiving workstations.
With these workstations, typical tasks, such as accessing shipping schedules, preparing manifests, or weighing packages, can be completed efficiently and ergonomically.
Organization is taken into account so items like computers, printers, and scanners have a designated location within arm's reach.
With a better designed workstation, the goal is to simplify shipping processes and decrease shipping times. While a standard shipping workstation is available, most can be customized to suit specific needs.
Final Thoughts
A proper workstation designed with ergonomics and the role in mind is an easy way to improve ergonomics, prevent worker injury, and increase efficiency within the workplace. Optimizing a workspace may seem like a small detail, but it can make a big impact on the warehouse.
---
Scott Stone is Cisco-Eagle's Vice President of Marketing with more than thirty years of experience in material handling, warehousing and industrial operations. His work is published in multiple industry journals an websites on a variety of warehousing topics. He writes about automation, warehousing, safety, manufacturing and other areas of concern for industrial operations and those who operate them.
What can we help you with?