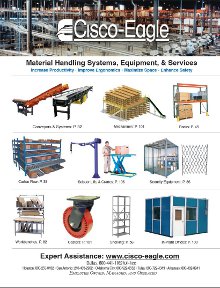 We have published a 2010 Cisco-Eagle Full Line Catalog, with 132 pages of ideas, concepts, and equipment for industrial, warehousing, manufacturing and commercial productivity. You can ask us for a print copy or choose to download PDF copies of the book, by section.
All of the listed catalog files below are PDF files and open in a new window.
The catalog in its entirety is a very large PDF (12MB) download, and also available.
Please note that the catalog does not list prices. Almost every item in it is priced on this website, with extensive details, specifications, photos, and in many cases video. See our online catalog for comprehensive information.